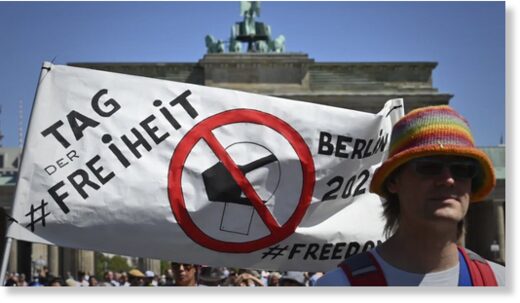 Welcome back to New World Next Week — the video series from Corbett Report and Media Monarchy that covers some of the most important developments in open source intelligence news. This week:
Story #1: "Unite for Freedom" Protest on August 29th
Coronavirus Protests Across the World
BREAKING: Germany Bans Coronavirus Protest; Berlin Senator labels protesters "right wing extremists"
Story #2: The Carney/Freeland "Green Reset" Shapes Canada's 'New Normal'
Chrystia Freeland Sworn In As Finance Minister; Parliament Prorogued
Story #3: NEWS ROUNDUP
CRISPR: New Genetic Engineering Techniques Pose Numerous Risks
PDF: "Broadening the GMO Risk Assessment In the EU For Genome Editing Technologies In Agriculture"
Florida Approves Release of 750 Million GM Mosquitoes Amidst Public Outcry
Suspect In #TaosCompound Case Found Incompetent To Stand Trial
United Arab Emirates Sells Out Palestine for Israel
Australian Drones to Find People Not Wearing Masks, Driving Too Far From Home
Glyphosate Herbicide Harms Even GM Glyphosate-Tolerant Soybeans
Could Injectable Microrobots One Day Run In Your Veins?
You can help support our independent and non-commercial work by visiting
http://CorbettReport.com/Support
&
http://MediaMonarchy.com/Join
.
Those in the US who want to support our work can send cash, check or money order (payable to James Evan Pilato) to:
Media Monarchy
c/o James Evan Pilato
P.O. Box 22486
Santa Fe, NM 87502-2486
Thank You.