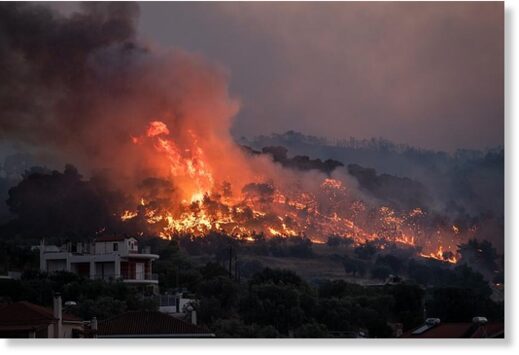 Fires are raging in Greece with efforts continuing to put them out.
A blaze at the popular spa area of Loutraki, Corinthia prefecture, was placed under control after it broke out at a forested area.
Fire Brigade operations were successful and managed to save evacuated homes in the area caught in the line of fire.
The Drassa settlement in the Corinthia prefecture was evacuated on Thursday as the fire that started on Wednesday at Kehries is burning "out of control," Corinth Mayor Vassilis Nanopoulos told the Athens-Macedonian News Agency (ANA-MPA), adding that a summer camp t Sofiko was also evacuated.
Mayor Nanopoulos requested that the government and the Peloponnese Regional authority declare the municipality in a state of emergency as 268 firefighters with 61 fire engines and 15 grounds teams battled the blaze and high winds created multiple pockets of fire.
Didyma in the Argolid
A fire raged at a forest region in Didyma near Ermionida in the Argolid as from early in the evening on Thursday, according to reports of the Fire Brigade. Some 20 firefighters with 8 fire engines rushed to contain it.
Deputy Minister for Civil Protection and Crisis Management Nikos Hardalias ordered the activation of access to the European Commission's Copernicus Emergency Management Service (CEMS) by the Directorate of Emergency Planning & Response, in order to map the Kehries region of Corinth which is ablaze for a second day Thursday.
AMNA reports that the request was accepted by the European Union, which will provide the Civil Protection Secretariat and all emergency authorities free access to useful cartographic data from the analysis of satellite images.
The fire has been particularly hard to fight, with strong winds and several pockets of fire, and despite help from large firefighting forces.
72 fires nationwide
According to Fire Brigade data as of Thursday evening, a total of 72 wildfires broke out nationwide since 19:00 on Wednesday. A total of 805 firefighters, 318 fire engines and 21 ground teams battled fires across the country, alongside water-dropping aircraft and helicopters in the last two days.