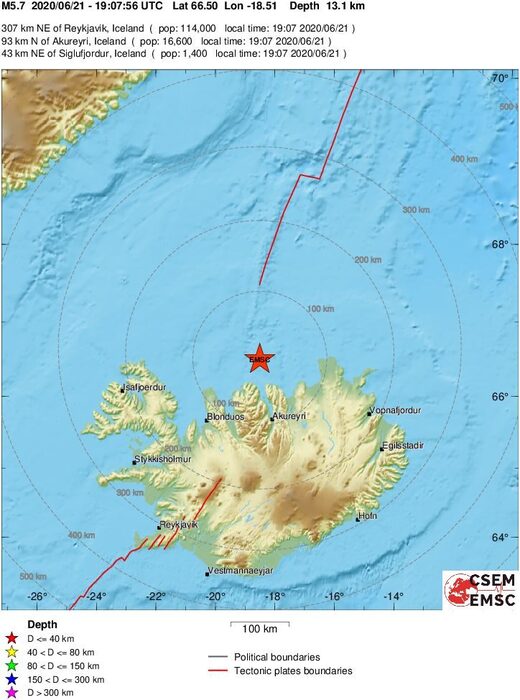 A strong and shallow earthquake registered by the USGS as M6.0 hit near the coast of northern Iceland at 19:07 UTC on June 21, 2020. The agency is reporting a depth of 10 km (6.2 miles). EMSC is reporting M5.7 at a depth of 12 km (7.4 miles). The quake is a part of an ongoing intense earthquake swarm, with more than 2 000 earthquakes since June 19.
The epicenter was located 50.8 km (31.6 miles) NNE of Siglufjörður (population 1 190) and 101.4 km (63 miles) N of Akureyri (population 17693).
There are about 13 000 people living within 100 km (62 miles).
35 000 people are estimated to have felt light shaking.
The Icelandic Met Office (IMO) is reporting the quake as M5.7 and a part of an ongoing intense earthquake swarm.
"It is the third earthquake over M5.0 and the largest earthquake in the swarm that began in the area on June 19," the office said.
The other earthquake over M5 were M5.6 and M5.4. Since the beginning of the crisis, IMO has detected over 2 000 earthquakes.
"Here is a footage from a security camera in a house in Reykir on Reykjaströnd in Skagafjörður, about 60km from the source of the quake north of Siglufjörður. The video shows the effects of the quake that occurred on June 20 at. 19:26 and was 5.6 in size. For the video, judge the effect of the quake for about 25 seconds. Smoke is a short distance from Grettislaug where Grettir is supposed to be warm after Drangeyjarsund. Glamur, the ghost Grettir wrestled with, would have been proud of these clearly heard voices, but vision is a richer story."
You can read the rest of the article
here
.