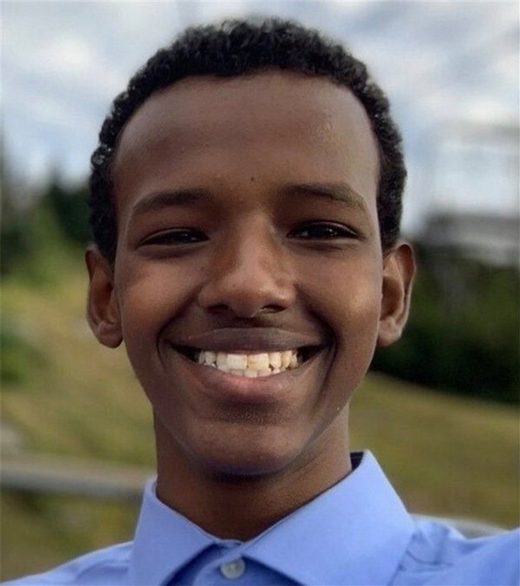 The body of an 18-year-old
who vanished in January
after leaving a Target store was found in the Des Moines River in Iowa, police said Monday.
Abdullahi "Abdi" Sharif was last seen on security video on Jan. 17 leaving the Target store at Merle Hay Mall in Des Moines where he and his sister, Ifrah, had worked for about two years.
According to Ifrah, Sharif was off school because of bad weather that day and told his family he was called in for a shift at Target, so their mother drove him to the mall around noon.
They later discovered that Abdi was not on the schedule that day
.

Comment: That's a curious detail. Did he or did he not work a shift at the store that day?


"It was not unusual for him to be there," Ifrah said at the time. "He loved working there and would sometimes just hang out. And the mall was in the same area, so he'd spend hours there."
Abdi later texted their mother and asked her to pick him up from Target at 9:30 p.m., but when she showed up, he wasn't there, and calls to his phone went straight to voicemail. The family reported him missing the next day.
The Des Moines Police Department said in a statement Monday that a kayaker called Saturday afternoon to report spotting a body in the river in Prospect Park, about 4 miles from the Target.
The Des Moines Fire Department's water-rescue unit recovered the body, which was later identified as Sharif's.
"There was no traumatic injury observed during autopsy," police said.
The cause of death is still under investigation.
Ifrah had said that her brother had referred to "bad, bad news" in a Snapchat post he made from the Target on the day he went missing.
"As investigators started looking into the case, one of the things that stood out right away was absence of video evidence. We had really two shots of him walking out of Target," said Des Moines Police Sgt. Paul Parizek in a video posted on the department's Facebook page Monday. "We were able to determine that he voluntarily left the store, but after that it was just one question after the other."
He said they didn't consider it strange for an 18-year-old to not be where he said he would be when he called his mother to pick him up, "but
as we started looking a little bit closer at Abdi's history, his personality, we realized pretty quick that this was out of his character.