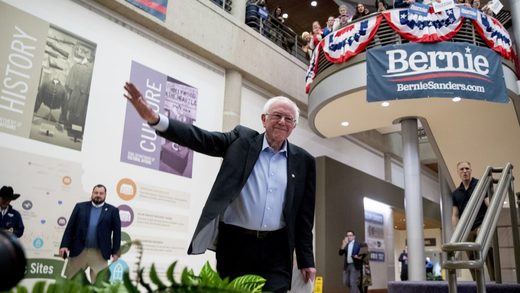 On Sunday, Democratic frontrunner Bernie Sanders confirmed that he would be skipping this year's American Israel Public Affairs Committee (AIPAC) conference and attacked the pro-Israel organization on his Twitter page.
"The Israeli people have the right to live in peace and security. So do the Palestinian people. I remain concerned about the platform AIPAC provides for leaders who express bigotry and oppose basic Palestinian rights. For that reason I will not attend their conference," tweeted Sanders, "As president, I will support the rights of both Israelis and Palestinians and do everything possible to bring peace and security to the region."
In response to the tweets, AIPAC put out a statement calling Sanders' remarks "odious" and "shameful."
This development comes just days after a coalition of progressive organizations
launched an effort
encouraging Democratic presidential candidates to skip the annual policy conference. One of those organizations is IfNotNow, the progressive Jewish group that has been confronting candidates over the subject of Palestine on the campaign trail.
"Insisting that human rights be at the center of American foreign policy is becoming the mainstream position of Democrats," tweeted IfNotNow co-founder Simone Zimmerman in response to Sanders' statement, "AIPAC's hateful and dangerous policies are the past. Bernie Sanders humane and just vision, and the movement propelling it forward, are the future."
Earlier this month, Minnesota Rep. Betty McCollum called AIPAC a
"hate group"
after it ran a series of Facebook ads implying that the congresswoman was worse than ISIS for promoting the rights of Palestinian children. "AIPAC claims to be a bipartisan organization, but its use of hate speech actually makes it a hate group," said McCollum,
"By weaponizing anti-Semitism and hate to silence debate, AIPAC is taunting Democrats and mocking our core values. I hope Democrats understand what is at stake and take a stand because working to advance peace, human rights, and justice is not sinister - it is righteous."
Massachusetts Senator Elizabeth Warren has also stated she will skip the conference and former vice president Joe Biden is the only current candidate who has indicated he will definitely attend the event.
Michael Arria is the U.S. correspondent for Mondoweiss.