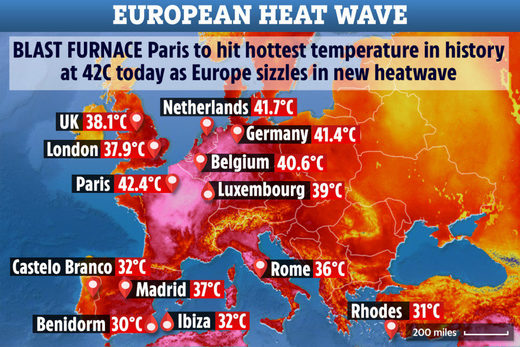 Paris reported its highest temperature ever this week as Europe's second major heat wave of the summer continues.
Europe is now baking under its second heat wave this month, but this latest is one for the record books.
On Thursday,
Paris
set its all-time temperature high, reaching 108.6 degrees Fahrenheit. The United Kingdom's
Met Office
reported that London's Heathrow Airport reached 98.4 degrees, a record for July. Cambridge, England, heat climbed to 100.5 degrees, marking only the second time triple-digit temperatures have been recorded in the United Kingdom.
Several countries also set
all-time heat records
this week: The Netherlands heated up to 105.3 degrees. Germany reached 106.7. Temperatures in Belgium soared to 103.8.
The high temperatures have done more than make people sweat; French officials observed that
drownings are up
30 percent compared to the same time last year, with at least 60 deaths indirectly attributed to the ongoing heat as more unskilled swimmers sought relief in the water.
At least five deaths in France have directly resulted from the heat. Such fatalities can occur when prolonged exposure to high temperatures prevents the body from cooling off, leading to heat exhaustion and heatstroke. Police in the UK have also
recovered bodies of swimmers
this week. Health officials in Belgium issued a code red warning for the whole country.
The searing weather has also degraded infrastructure across Europe.
Two nuclear reactors
at a power plant in France shut down because the water they used for cooling became too hot. The heat forced
trains to slow down
in the UK due to risks of heat causing rails to expand. The weather may also have contributed to the breakdown of a
Eurostar train
in Belgium on Wednesday that stranded more than 600 passengers in a sweltering tunnel for two hours. Heat is also threatening iconic landmarks like the 850-year-old
Notre Dame Cathedral
in Paris
. Its roof collapsed in a fire in April, but the cathedral's chief architect
Philippe Villeneuve
warned that high temperatures could dry out the church's fragile masonry and lead to more structural failures.
Cyclists in the ongoing
Tour de France
have even strapped on ice vests to stay cool.
Read the rest
here