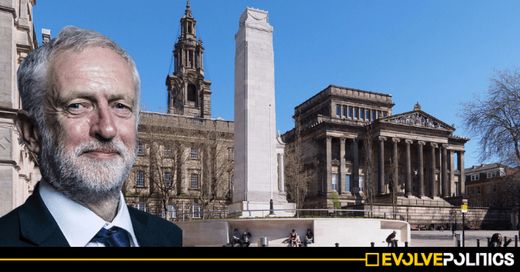 Research conducted by PriceWaterhouse Coopers, in association with the thinktank, Demos, has named Preston - the UK City whose Labour-run Council's socialist policies saw it labelled the "
poster child of Corbynomics
" - as the most improved urban area in the UK to live and work.
The annual
research
, called the Good Growth for Cities 2018 index, measures the UK's biggest 42 cities and uses indicators including health, income, skills, housing affordability, commuting times, environmental factors, income inequality and new business starts.
Unemployment in the winning City fell to 3.1% last year, compared to 6.5% in 2014
. In addition, Preston has seen improvements above the national average in health, transport, residents' work-life balance and skills across the entire population, from young to old.
Much might be attributable to Preston's model, widely considered torch-bearing, of so-called
guerilla localism
. That is, following the fallout of the recession and the halting of construction of a monstrous shopping mall in the middle of town - modern neoliberalism's solution to all regenerative needs - the Council changed tack.
Small cities trailing big histories rank among the flotsam of 21st-century capitalism. With a big enough dowry (some subsidies, perhaps, or free roads and cheap labour), they might catch the eye of a passing multinational bearing some dubious inward investment. A distribution warehouse, say, with poverty-pay jobs, or a high-street killer of a retail park. That was Preston at the start of this decade - and it's several other places still.

But the city council no longer plays that game. Instead it has adopted a guerrilla localism. It keeps its money as close to home as possible so that, amid historically drastic cuts, the amount spent locally has gone up. Where other authorities privatise, Preston grows its own businesses. It even creates worker-owned co-operatives. Aditya Chakrabortty - The Guardian
It has pursued a policy of keeping as much money within Preston as possible. That means contracting out to massive multinationals and developers as little as possible. The Council even broke up one contract to supply schools with meals into 9 different contracts so that it was more manageable and more approachable for smaller, local firms to bid. They did, and local firms using Lancashire farms won all nine contracts and boosted the local economy by £2m.

Comment: In other words, the old-fashioned idea of community self-reliance.


Housing associations reported that they managed to keep things like maintenance in-house, losing no quality and seeing a rise in costs only marginal.
While PwC did not explicitly credit Preston's socialist swing in economic thinking for its newfound ranking, it did say that improving skill level and new business formation are drivers of growth.
One can't help but see the link between a local public sector

committed to local contracting and procurement

allowing local businesses to grow or even begin, meaning more employees and apprentices taken on and more skills learnt.
On the flip side, in factors which can highlight structural deterioration in cities across the UK, such as reduced housing affordability, owner-occupation rates and increases in commuting times, Preston beat London in PwC's rankings for desirability of living.
Compare the difference in performance between Preston and Worcestershire County Council, which saw a massive
budgetary blackhole
as a result of privatisation, outsourcing and cutting of public services, and the difference is stark.
The research shows that socialist economic policies of increased public sector involvement, investment in local businesses and in the people of Preston, such as those spearheaded by Corbyn, work.
Let Preston serve as a microcosm of what could be achieved nationwide if, at the very least, we allowed ourselves to cut loose of this seemingly never-ending neoliberal malaise and pursue an alternative path.
Will is a freelance writer at Evolve Politics. He is also doing the BPTC at the University of Law with aspirations of becoming a Barrister. Will has two law degrees and lots of opinions.