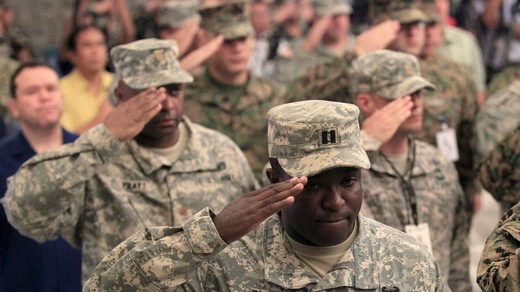 A group of 70 House lawmakers is urging President Trump not to cut next year's defense budget, warning of "disastrous consequences" for the military if he does.
"We, the undersigned, strongly urge you to uphold your commitment of $733 billion to restore our nation's military as you complete the fiscal year 2020 president's budget," the lawmakers wrote to Trump in a letter to be delivered next week.
"Cuts to defense spending will have disastrous consequences for our military readiness, as was proven by sequestration."
The letter was organized by Rep. Mike Turner (R-Ohio).
The co-signers are all Republican, save for one Democrat
: Tom O'Halleran (Ariz.).
Trump has ordered the Pentagon to prepare a $700 billion defense budget for fiscal year 2020,
a $16 billion cut from this year
and $33 billion less than originally planned for 2020.
Defense hawks have launched a full-court press to convince Trump to reverse course and return to the $733 billion budget. Sen. Jim Inhofe (R-Okla.) and Rep. Mac Thornberry (R-Texas), the chairmen of the Senate and House Armed Services committees, penned an op-ed for the
Wall Street Journal
last week on the issue and went to the White House this week to lobby Trump in person.
Inhofe
also gave a speech
at the National Defense University on Thursday laying out his case for a defense budget increase.
Those who want the higher budget argue that cutting defense spending now would reverse progress made on addressing readiness issues after two years of budget increases.
In their letter, the House lawmakers cite the recently released National Defense Strategy Commission report, specifically its
warning that U.S. military superiority is "increasingly in doubt" and that "the consequences will be grave and lasting" without quick action
.
The letter also highlights Trump's boasts about rebuilding the military, quoting his August remarks when signing this year's annual defense policy bill that "we are going to strengthen our military like never ever before."
In a statement accompanying the release of the letter, Turner called out the contradiction between Trump's remarks and his plan to cut spending.
"President Trump cannot claim he is rebuilding our military while cutting the funds necessary to do so," Turner said. "We've seen the devastating effects on readiness when our military is forced to make arbitrary cuts as our adversaries continue to aggressively invest in their national security operations."