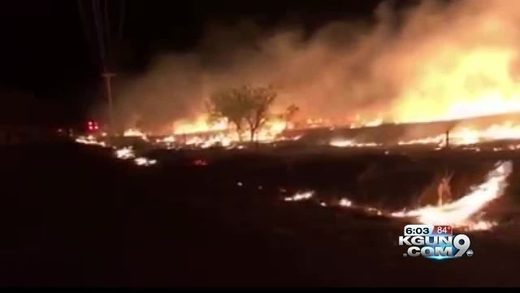 New video of
the baby gender reveal party gone wrong
on Arizona state land near the Santa Rita Mountains foothills has been released by the U.S. Forest Service.
Back in April, U.S. Border Patrol agent Dennis Dickey
allegedly started the Sawmill Fire after he reportedly shot an explosive compound known as Tannerite.
Dickey said the blaze, which burned nearly 47,000 state land for more than a week, was started at Dickey's baby's gender reveal party.
According to officials, no injuries were reported in the fire. In addition, no homes were lost. The fire did burn timber, trees, slash brush and grass that spread through Coronado National Forest,
court documents say
.
Dennis Dickey was federally charged with causing a fire without a permit, a class B misdemeanor,
according to court documents.
He appeared in federal court in October where
he was sentenced to pay $100,000 up front following $500 every month for the next 20 years.
He also agreed to conduct a public service announcement with the U.S. Forest Service about the cause of the fire.
Anthony Victor Reyes is the lead web content producer at News 4 Tucson. The University of Arizona graduate previously served as a community reporter at a news publication in Newton, Iowa.