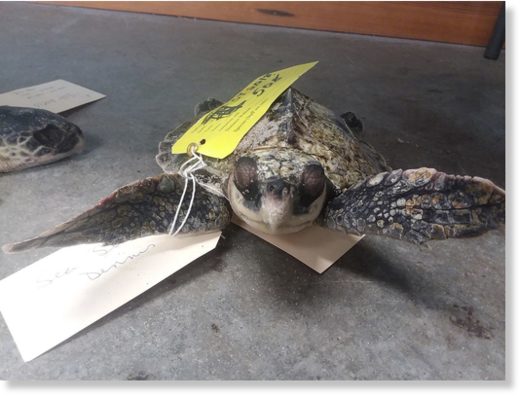 Back-to-back nights of single-digit overnight temperatures in Cape Cod, Massachusetts, this week have killed over 80 sea turtles, most of which were endangered Kemp's Ridley sea turtles.
The turtles were found washed ashore frozen solid on beaches in Brewster, Orleans and Eastham.
On Wednesday morning, 87 turtles were found washed ashore, but most survived. The 82 sea turtles found on Thursday morning were not so lucky.
Since late October, over 400 cold-stunned turtles have been reported,
according to Jennette Kerr, Communications Coordinator of the Massachusetts Audubon Society's Wellfleet Bay Wildlife Sanctuary.
Sea turtles and other reptiles get cold stunned when temperatures drop sharply. According to the National Park Service, "A cold-stunned turtle is one that has become hypothermic due to severe cold weather." Sea turtles, like other reptiles, are cold-blooded and therefore cannot regulate their own body temperature. When water temperatures drop below 50 degrees Fahrenheit, the turtles are rendered immobile and float to the surface. When they wash ashore, they remain immobile and the freezing overnight temperatures make survival impossible.
Kemp's Ridley sea turtles are the most endangered species of sea turtles and they are also the most common cold-stunned species. According to the National Oceanic and Atmospheric Administration, the largest concentration of cold-stunned turtles occurs in Massachusetts.
"Recently, we've been averaging about 600 cold-stunned sea turtles in Massachusetts from late October through December," NOAA wrote. "In addition, New York, specifically Long Island beaches, also see several cold-stunned turtles each winter."
The cold-stunned sea turtles in Cape Cod are brought to the Massachusetts Audubon Society's Wellfleet Bay Wildlife Sanctuary. According to the sanctuary, the first instance of turtles becoming cold stunned this season came on Oct. 22. Kerr told
capecodtimes.com
that she fears many more frozen turtles may wash ashore in the coming nights due to the historically low temperatures.
Sea turtles normally migrate south during the late fall and winter,
but turtles being impacted by cold stuns has increased in recent years.
Kerr told the Boston Globe
that there isn't a clear reason why, but she suspected it was becoming more noticeable due to prolonged successful conservation.
"Because sea turtle conservation has been more successful, there are more successful hatchings," Kerr told the
Boston Globe.
"So we are probably being the result of 10 to 15 years of success at the nesting beach level. Temperatures have been increasing, so more turtles are probably hitting colder waters unexpectedly, becoming trapped in Cape Cod when they go south."