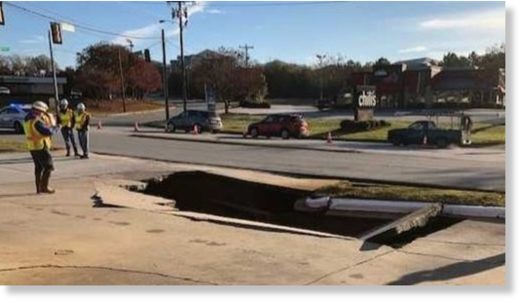 A "massive sinkhole" opened Friday morning at a gas station in Greenville, South Carolina, police say.
A video posted by the Greenville Police Department shows the sinkhole
police estimate to be 10 feet deep
that exposed an underground gas line.
"Crews are here making sure pieces of overhanging concrete don't drop on the gas lines, which could open them up. As soon as the concrete is secured, at least one southbound lane will re-open on Haywood Road," the department said on Facebook
A S.C. Department of Transportation engineer told WYFF that he estimated the sinkhole to actually be about 20 feet deep and 50 feet long
.
The hole that opened up at the Kangaroo Express gas station is the size of an SUV, police said on Facebook.
Sinkholes can form when water washes away the soil under concrete, WYFF reports.
A drain pipe under the gas station collapsed and probably caused the sinkhole, according to the SCDOT engineer who spoke to Fox Carolina.
This is the second big sinkhole in as many days,
Fox Carolina reports. Thursday a
sinkhole opened in front of a trucking company,
trapping the company's shipping trucks on the property, according to the television station.