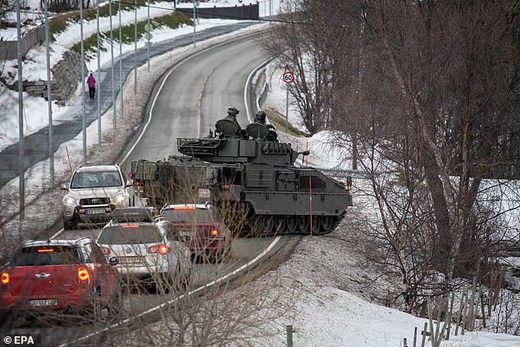 More than 400 complaints have been made about NATO soldiers making a mess after the largest joint exercises since the Cold War.
Some of the complaints are about
soldiers relieving themselves in public areas, close to kindergartens and leisure facilities
, according to
NRK
.
'This is terrible, it's about having common decency. We have to clean up after soldiers who have relieved themselves. It's literally a s**ty job.' Major Marianne Bø of the Norwegian Armed Forces told the public broadcaster.
Major Bø said they had received complaints about US and Swedish soldiers.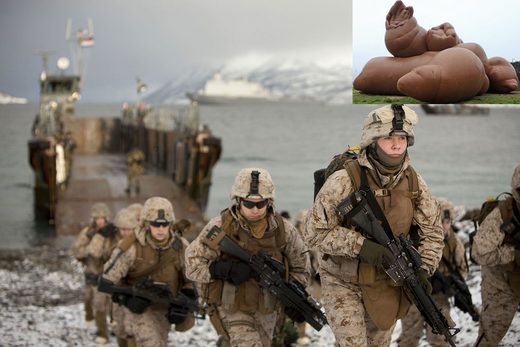 'We actually have a system for treating this. The soldiers bring their equipment to clean up afterwards. But next time we have a major exercise, we must tighten this,' the Major said.
The complaints come as US soldiers drank pubs and bars in Reykjavik, Iceland dry in a single weekend as part of the operations.
A significant number of the bars were forced to make emergency beer runs under the onslaught of thirsty American sailors and Marines in town at the beginning of
Trident Juncture
.
Most of the outrage in Norway comes from farmers who are angry about their land being torn up by NATO's tanks and trucks during exercises.
In the 119 complaints about damage to land they speak of their fury at their fields being scarred by heavy vehicles.
Brynjar Heli from Orkdal in Trøndelag told NRK that he is happy that Norway's Armed Forces are taking responsibility for the damage caused to his property.
'There isn't a problem as long as they clean up afterwards, and they have said they should do,' Mr Heli said.
'I understand that the defense forces must practice, and fortunately, there is no major devastation.'
NATO spokesman Eystein Malkenes Kvarving told Norway's public broadcaster, 'Sometimes unfortunate things happen which are not planned. Of course, it is not okay for people to defecate in public areas.'
He expressed his regret and stated all complaints would be taken seriously.
Despite the mess most Norwegians were happy to host the joint operations.
According to the Norwegian Armed Forces support has risen from 64 to 69 percent since the exercises started.

Comment: Sure it has...


US Admiral and and Chief Commander of
Trident Juncture
, James G. Foggo, told NRK: 'This exercise has given us a lot.
We have learned a lot about the weather in Norway
and we have created lasting relationships.'

Comment: Well aint you fast learners.


The massive exercises involved
50,000 troops
from 30 nations in Norway over the last month.