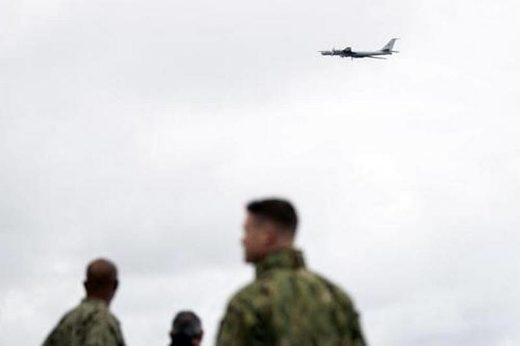 Russia is flexing its muscle or is at least engaged in some serious trolling just as Trident Juncture 18 is underway in Norway
-
NATO's largest drills in decades with some 50,000 troops, 10,000 combat vehicles, 65 ships, and 250 aircraft.
On Friday
a Russian Tupolev Tu-142 bomber unexpectedly flew close to the USS Mount Whitney at the very moment Marines on board were gathered for a group photo during the NATO military games
.
Russian media confirmed the incident, describing the U.S. Sixth fleet's flagship (the command and control ship for the fleet) as being
"blindsided"
while the military and aircraft analysis site
The Aviationist
described the provocative flyover as
"more or less overhead"
.
According an account of the incident reported by
The Aviationist
:
Sailors aboard the Blue Ridge-class command ship of the U.S. Navy USS Mount Whitney had gathered for a group photo on deck, when a Tupolev TU-142, RF-34063 / 56 RED based on AFP photographs, flying in international airspace, soared more or less overhead, on Nov. 2, 2018.
The large long-range bomber appeared during the moments a formal group picture was being staged aboard the USS
Whitney
, Military.com
confirmed
.
The stunt comes after in previous weeks Moscow made clear
its displeasure over what are by far NATO's largest military exercises since the end of the Cold War
, saying that the two-week long games would not go unanswered.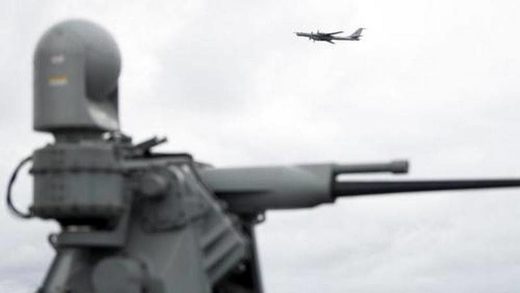 According to Military.com the Russians were
sending a clear message
:
The Tupolev's passage appeared to be part of Russia's response. But Colonel Garth Manger, a British Royal Marine in charge of operational duties on board the U.S. Navy warship, took it in his stride. "They're watching us and we're watching them."
Russia's Defense Ministry (MoD), for its part, confirmed that two TU-142 bombers were flying over neutral waters in the area of the Norwegian Sea during the time the flyover occurred. The MoD said that aircraft spent 12 hours in the air before returning to a base in the Russian northern-central Vologda Region.
The MoD statement
said
: "All flights of the naval aircraft of the Russian Navy are carried out in strict accordance with the international rules for the use of airspace without violating the borders of other countries."
Meanwhile the Russian MoD also announced on Saturday that
the heavy nuclear missile cruiser Peter the Great of Russia's Northern Fleet entered the Barents Sea on Saturday to "perform combat training missions,"
according to a press release.
The ship's crew will conduct a series of exercises on anti-submarine and air defense and perform combat training exercises with the use of tactical weapons, the MoD statement said further.
With NATO's
Trident Juncture
set to go until Nov. 7, it will be interesting to see if Russian aircraft or vessels conduct another close passage near NATO assets operating in the Scandinavian and Arctic regions.