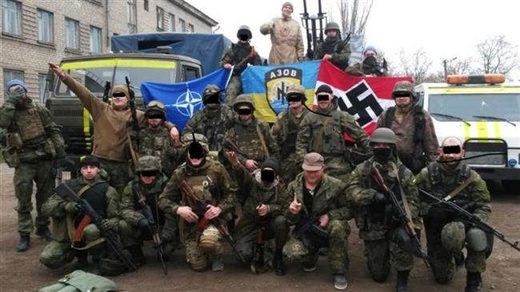 Russian deputy envoy to the Organization for Security and Cooperation in Europe (OSCE) Dmitry Balakin has complained to the organization against neo-Nazi presence in a United States government-funded cultural center in Ukraine's capital city of Kiev.
Speaking to the OSCE Permanent Council in Vienna on Friday, Balakin condemned ongoing neglect of surging state-sponsored nationalist extremism in Ukraine.
"It got to a point where a member of
the C14 neo-Nazi group was allowed to speak at the America House in Kiev, against the background of the American flag, where he boasted about results of 'cleaning' a Kiev railway station from Gypsies jointly
with the city police
," said the Russian diplomat.
The image of the controversial event has circulated on social media, showing a known neo-Nazi speaker at the center.
Observers, including the European Parliament, have expressed concern over the influence of extremist nationalist groups in Ukraine,

some of which have been officially integrated in Kiev's political and security forces.
"At last, the European Parliament noticed the crimes committed by radicals from extremist organizations Carpathian Sich, the Azov battalion, the Right Sector and C14.
A resolution has been adopted to condemn the manifestations of neo-Nazism, racism and xenophobia," added Balakin.
The Russian diplomat, however, believes the OSCE is not doing enough to address the matter.
"We call on the OSCE Special Monitoring Mission to finally prepare a report on the issue."
The crisis in Ukraine started after a string of protests overthrew the country's democratically government in 2014 and replaced it with a pro-Western government, leading to armed confrontations in the country's eastern and predominantly Russian-speaking regions and to Crimea's union with Russia following a local referendum.
Kiev and its Western allies have accused Moscow of channeling troops and armaments across the border into eastern Ukraine, a charge Russia denies.
International efforts to restore peace to the region have failed and more than 10,000 people have died as a result.