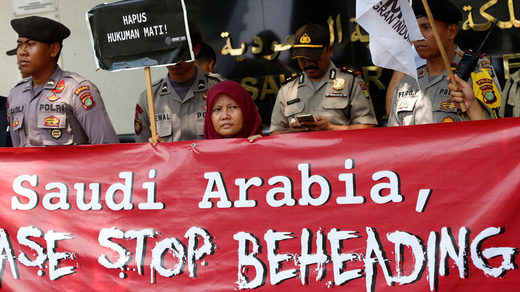 Saudi Arabia's execution of a migrant maid has sparked diplomatic tension with Indonesia at a time when the kingdom is facing international condemnation for the murder of journalist Jamal Khashoggi.
Saudi authorities executed Tuti Tursilawati on Monday without informing the Indonesian government, Indonesia's Ministry of Foreign Affairs said.
It's the third time in three years that the kingdom has executed an Indonesian citizen without informing their government in advance.
Tursilawati was charged with premeditated murder after she beat her employer's father to death with a stick in 2010, the Jakarta Post
reports
. She said she was acting in self-defense and that he had been sexually abusing her. The woman ran away after the killing and was reportedly raped by nine Saudi men before she was taken into custody.
She was sentenced to death in 2011 and was one of 18 Indonesians on death row in Saudi Arabia.
"Tuti's execution was carried out without [prior notification]," Foreign Minister Retno Marsudi told reporters Tuesday. "I also summoned the Saudi ambassador in Jakarta to meet me in Bali."
The execution comes just a week after Marsudi met with Saudi Arabian Foreign Minister Adel al-Jubeir to discuss migrant workers' rights. Marsudi stressed the importance of mandatory consular notification before carrying out death penalties, and both countries agreed to jointly "supervise, monitor, and evaluate" the Indonesian migrants working in Saudi Arabia.
Indonesian NGO Migrant Care condemned the execution and called on the government to reverse a recent agreement to allow a limited number of workers to go to Saudi Arabia.
"For [the] umpteenth time Saudi Arabia has hurt the diplomatic ethics of both countries that should have put forth the respect for human rights," Amnesty International Indonesia's Executive Director Usman Hamid said, Tempo
reports
.
In 2015, the Indonesian government banned domestic workers from going to Middle Eastern countries after Saudi Arabia executed two Indonesian maids.