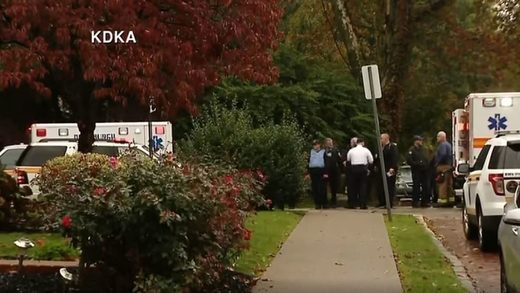 A suspect has been detained following a shooting at a synagogue in Pittsburgh, Pennsylvania. At least seven people have been confirmed dead.
Police radio chatter suggests the suspect told officers that "all these Jews need to die" and he "doesn't want any of them to live" before being detained.
The shooter was carrying an AR-15 and a Glock pistol. An additional weapon was found attached to the suspect's ankle, and a pistol in his waistband. A "military style package" was being checked inside the synagogue following reports of an explosive device.
The shooting took place at the Tree of Life synagogue on Wilkins Avenue. He apparently shot at officers when they arrived at the scene, forcing them to use their vehicles as shields.
The synagogue was reportedly full of people for a Saturday service when the shooting began. Police received several calls from people barricaded inside the building.
Details of dramatic police standoff with the shooter emerged via police radio
broadcast
on the Broadcastify website. An officer at the scene has told his colleagues over the police radio that there are "four down in the atrium." Another one said "I've got one alive."
"We need armor," one police officer is heard saying, while another one requested to "open up the back for rescue."
A SWAT crew was dispatched to the scene and there was a request for breaching equipment on the second floor, stating that there were rooms with locked doors. An "explosive device" was also mentioned by the officers on the radio.
The shooter was reportedly wearing a green jacket, a blue shirt, and blue jeans. He was carrying an AR-15 and a Glock pistol. The radio chatter has cited his date of birth as September 4, 1972.
Local authorities have confirmed the shooter situation. "ALERT: There is an active shooter in the area of WILKINS and Shady. Avoid the area," the Pittsburgh Public Safety Department tweeted. Pittsburgh Mayor Bill Peduto was on his way to the location of the incident.
The department has advised media to stop calling its cell phones. "It is draining batteries and interfering with communications."
A photo posted online by WTAE journalist Chris Lovingood showed police vehicles at the location.
CBS
reports
the shooter has surrendered.