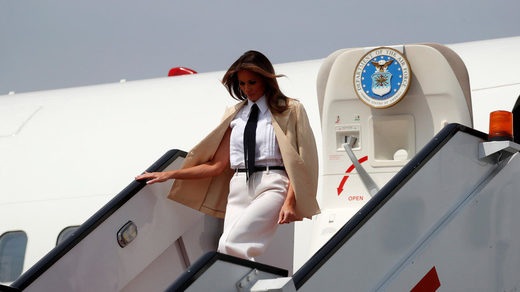 First Lady Melania Trump's plane has been forced to return to base after smoke filled the cabin and a burning smell was reported 10 minutes after its departure from Joint Andrews Air Force Base.
According to preliminary reports, the plane had just taken off from the air base when Secret Service agents leaped up and ran to the front of the cabin. Smoke began to fill the plane, and journalists on board reported a burning smell growing stronger.
The entourage held wet towels over their faces until the plane touched down safely at the military base. Mrs. Trump was seen getting off the plane at Andrews, and appeared to be in fine health.
Reporters were told the plane suffered a
"minor mechanical issue,"
that one crew member said stemmed from a
"malfunctioning comms unit,"
although the White House has yet to confirm the source of the issue.
Melania Trump had been en route to Philadelphia from Andrews, a short flight of less than an hour. The first lady was due at Thomas Jefferson University Hospital to visit infants suffering from opioid exposure in the womb, and talk to their families. She had also planned to speak at a conference on the same issue later in the day.
According to a Health and Human Services spokesperson, Trump will continue her journey once a new plane is ready.
Addressing America's opioid crisis was one of President Trump's key campaign promises, and the topic has also been taken on board by the first lady, whose hospital visit forms part of her 'Be Best' campaign, which focuses on children's issues.