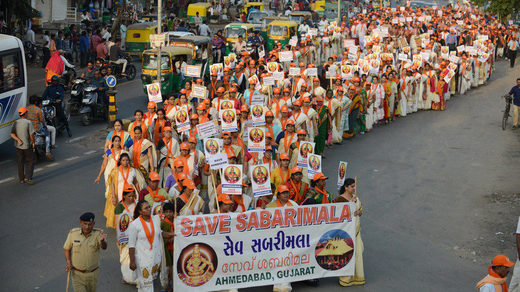 Hundreds of police officers had to be deployed in India as thousand-strong crowds poured onto the streets to stop women of menstruating age from entering one of Hinduism's holiest sites.
India's Supreme Court, at the end of September, struck down a ban on females aged between 10 and 50 from entering the temple for Ayyappa, god of growth, in the southern Kerala state.
The ruling will take effect on Wednesday and allows for females of all ages to flock to the place of worship, which sees tens of millions of devotees each year.
But protesters, including women, gathered to protest the judgement, which they say goes against their religious beliefs.
The god Ayyappa is considered to be celibate, so women of menstruating age are banned from entering his temple. Some Hindu communities also consider women on their periods to be unclean and ban them from religious practices.
According to local news agency PTI, mobs circled vehicles attempting to reach the shrine to stop women of the banned age from accessing the site.
But Kerala police spokesman Pramod Kumar told AFP the situation is "under control."
Temples across the country mostly allow for women of menstruating age to access holy sites, but there are still those who oppose their entry, despite ongoing rights activists' campaigns.
Activist Trupti Desai who received death threats as she planned her visit to the temple, said: "It is our constitutional right, and we will stand up for it. People are trying to bully me but I am not scared."
It is understood Prime Minister Narendra Modi, leader of the Hindu nationalist BJP party, supported the marches against the court's order.
Kerala chief minister Pinarayi Vijayan, however, warned there would be "stern action" against those attempting to block women from reaching the site, local media reports.