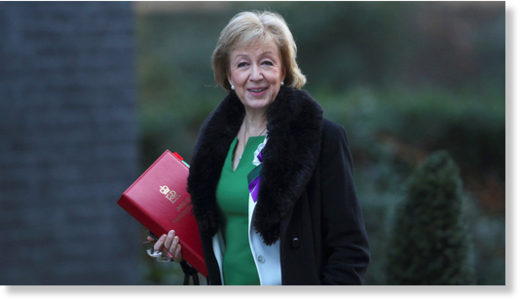 Brexit red lines are being drawn as Theresa May faces a cabinet backlash just as an EU-UK trade deal nears. Leader of the House of Commons, Andrea Leadsom, is the latest member to reportedly threaten to quit in protest.
Leadsom's reported decision to consider her future follows a 'war cabinet' meeting of senior government ministers, Thursday, where May detailed her plan to break the deadlocked negotiations over the Irish border.
If one minister threatening to quit wasn't enough, it's also emerged that Esther McVey, the work and pensions secretary, and Penny Mordaunt, the international development secretary, neither of whom attended the meeting, are also considering their positions.
The Independent reported that Leadsom, an ardent Brexiteer, is ready to resign if the PM backs any plan to keep the UK in the EU's customs union permanently and is currently "considering discussions that have taken place."
Leadsom ran for a failed bid to become Conservative leader in 2016 after David Cameron quit as PM over the EU referendum. She lost out to Theresa May, but she could now be the key cabinet minister to initiate the demise of the prime minister.
Downing Street today has attempted to quell any unhappy rumblings from cabinet ministers worried about the UK pushing ahead with the EU's demand of a no time limited 'backstop' agreement. The deal would see Northern Ireland staying in the customs union until a permanent settlement could be finalised.
A spokesperson for May said, "The PM would never sign us up to a deal that would keep us in the backstop permanently." The Sun's deputy political editor, Steve Hawkes, noted that there was no mention of the term 'time limit,' a key omission that may fuel, rather than temper tensions within her Tory cabinet.
Before Thursday's meeting, McVey repeatedly declined to say in public that she was behind the PM's Chequer's proposal for Brexit, but despite that insisted she was "100 percent behind the prime minister."
Mordaunt has suggested the PM's Chequers plan may have to be modified to get a final deal agreed with Brussels and to satisfy backbench Tory MPs, saying on Tuesday "we don't know where this is going to end up."
May is facing red lines outside her cabinet too. The DUP - whose support May relies on for a majority - will vehemently oppose any plan that keeps Northern Ireland in the customs union indefinitely, fearing it would mean they would be treated differently to the rest of the UK.
Staying on trend, the DUP's leader, Arlene Foster, stated that any Brexit deal that would divide Northern Ireland from the rest of the UK would be a 'blood red line.'