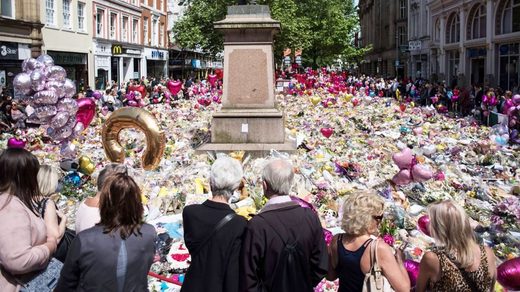 Four FBI employees mishandled sensitive information provided by British intelligence following last year's suicide bombing in Manchester, a justice department watchdog said on Wednesday.
Photographs and evidence gathered following the attack at the Manchester Arena were quickly leaked to US media, prompting Theresa May to complain to Donald Trump while British police temporarily stopped sharing intelligence with their American counterparts.
The US justice department's inspector general's office said on Wednesday it was unable to pinpoint the source of the leaks, but that it had found misconduct by four of the more than 1,000 bureau employees who received an email containing the intelligence.
Findings from the inquiry have been passed to the FBI for "appropriate action", according to the inspector general's office. "All four individuals denied providing the UK Intelligence Report, or information contained in it" to the
New York Times
, the report said.
Two FBI personnel forwarded the email to their own personal email accounts, according to the inquiry report, and one of them was found to have done the same with about 550 other FBI emails containing sensitive or restricted information.
Investigators searched the pair's personal accounts but found no evidence that the information was then sent on to reporters.
Meanwhile, an officer assigned to an FBI taskforce was found to have forwarded the British intelligence report to a foreign law enforcement official without permission, while a fourth employee tried to send it to their personal account through a banned automatic forwarding system.
On 22 May 2017, Salman Abedi detonated a suicide bomb at the arena following a concert by the American pop singer Ariana Grande. The explosion killed Abedi and 22 others, while injuring many more.
The inspector general's report said the inquiry was prompted by a referral from the FBI itself, which said that
an article published on 24 May 2017 contained sensitive information from the UK intelligence report.
The FBI had already reviewed internal emails, text messages and telephone logs in an unsuccessful search for contacts with the reporter who wrote the article.
The inquiry found that British authorities had sent the report to "numerous other" US agencies, suggesting the leak may not have come from the FBI.