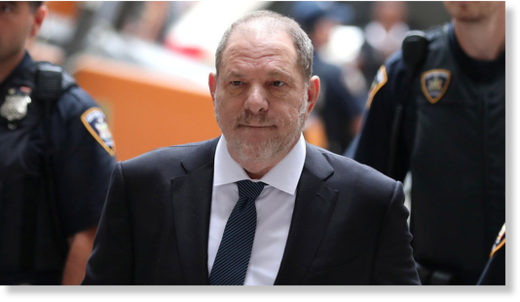 New York prosecutors have dropped one of the sex crime charges against disgraced movie producer Harvey Weinstein, according to news agencies.
Weinstein appeared before New York Judge James Burke as his lawyers tried to have some or all of the charges he faces dismissed.
The basis for the motion filed by Ben Brafman said prosecutors withheld evidence when presenting the case to the grand jury, such as friendly emails that one of Weinstein accusers sent to him.
The case includes rape and sexual assault charges.
During the Thursday hearing, the prosecutors agreed to drop charges relating to an alleged sexual assault. They said they could not oppose the dismissal in light of information that they had learned while investigating the case.
According to ABC News, prosecutor Joan Illuzzi-Orbon dropped count six of the indictment involving Lucia Evans, an actress who accused Weinstein of forcing her to perform oral sex on him in 2004. The rest of the counts against him remain.
It reportedly comes after the district attorney's office discovered a previous written account by Evans which could suggest that her sexual encounter with Weinstein was consensual.
Four other charges remain in the case against Weinstein before the Manhattan Criminal Court. The former movie producer pleaded not guilty to all of them and was granted bail at $1 million.
The fall of Weinstein began almost exactly one year ago, when an article by
The New York Times
reported allegations that Weinstein had sexually harassed multiple women and paid them for their silence. Days later,
The New Yorker
published the first in a series of articles in which women brought forth allegations of rape, sexual assault, and sexual harassment against the film executive.
Brafman said the written account from Evans was discovered from a fact-checker at
The New Yorker
, and that he would subpoena the magazine.