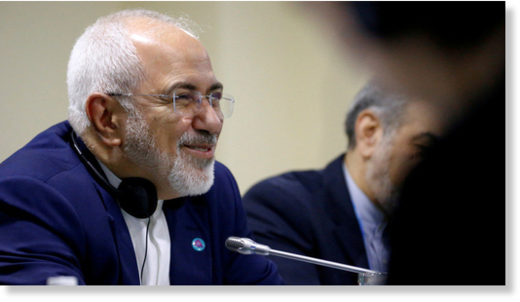 Iranian Foreign Minister Mohammad Javad Zarif has rubbished US calls for a new treaty with Tehran, and blasted the US for violating its obligations by withdrawing from the Iran deal. He said the US "only mocks calls for peace."
"US calls JCPOA 'a personal agreement between two governments', claiming it 'seeks a treaty'. Wrong. It's an int'l accord enshrined in a UN SC res. Plus, US has violated its treaty obligations too & faces 2 suits at ICJ. Apparently, US only mocks calls for peace. #HaveYouNoShame,"Zarif tweeted on Thursday.
Zarif's tweet was accompanied by a video showing a protester being removed from a conference on Wednesday. At the conference, US special envoy for Iran Brian Hook said that he hopes the US can sign a new deal with Iran to limit the country's nuclear and ballistic missile programs.
"The new deal that we hope to be able to sign with Iran, and it will not be a personal agreement between two governments like the last one: we seek a treaty," he said, ahead of a UN Security Council meeting in New York next week, chaired by President Donald Trump.
Hook said on Wednesday that Iranian leaders did not seem interested in talking with the US. Zarif's words on Thursday seem to have proven him right.