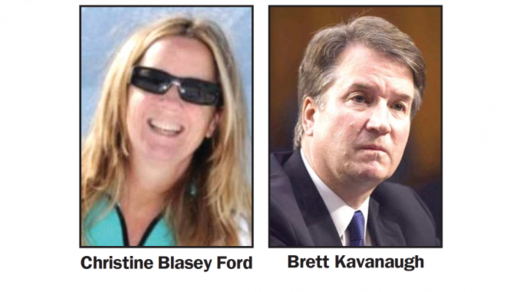 Democrats and others who protested against President Trump's Supreme Court nominee Judge Brett Kavanaugh becoming the next justice on the Supreme Court woke up Tuesday morning knowing that victory is theirs. It has been reported by multiple sources that the committee confirmation vote that was supposed to take place Thursday has been
delayed
which is exactly what these people wanted. If the Republicans who were voted into their position had any kind of backbone and strength the vote would have been pushed forward despite this last minute political play by Senator Diane Feinstein of California. Sadly, the Republicans responsible for allowing this situation to delay the vote have shown how weak they are. Instead of the committee vote taking place Thursday as it was originally scheduled to, the Senate Judiciary Committee have invited Judge Brett Kavanaugh and his accuser Democrat supporter Christine Blasey Ford to
testify
at a public hearing Monday. Both will get their chance to publicly address an encounter that
both Judge Brett Kavanaugh and the only other person that Christine Blasey Ford claims was in the room that night Mark Judge both claim never happened
.
Committee Chairman Chuck Grassley and the Republicans who feel that these recent allegations deserve to be heard are absolutely right.
Allegations like these deserve to be heard, but they are allowing the political left to do what they always do and pull on their emotions which has led to the manipulation that has seen the vote that was supposed to take place Thursday delayed and pushed back further
. Committee Chairman Chuck Grassley was absolutely right Monday when he said, "as I said earlier, anyone who comes forward as Dr. Ford has done deserves to be heard." He did everything that he could to have the staff panel conduct phone interviews with both Judge Brett Kavanaugh and Christine Blasey Ford. The fact that Democrats like Senator Diane Feinstein refused to cooperate with the efforts that were made by Committee Chairman Chuck Grassley should have allowed for those who were willing to cooperate with the efforts of the chairman to conduct their interviews while pushing forward with the vote as planned.
Democrats rejected the efforts of Committee Chairman Chuck Grassley and instead wanted the FBI to investigate the accusations that Christine Blasey Ford has brought against Judge Brett Kavanaugh.
President Trump indicated that he was open to the idea of delaying the confirmation vote that would place Judge Brett Kavanaugh on the Supreme Court when he said, "if it takes a little delay, it'll take a little delay. It shouldn't certainly be very much."
From the very moment that there was any mention about these accusations of sexual misconduct before Judge Brett Kavanaugh even knew the name of the person they came from he has adamantly and strongly denied that there was any truth to these claims. In a statement claiming his innocence Judge Brett Kavanaugh said, "This is a completely false allegation. I have never done anything like what the accuser describes - to her or to anyone. Because this never happened, I had no idea who was making the accusation until she identified herself yesterday."
Meanwhile some Republicans have let it be known that without the public testimony that both Judge Brett Kavanaugh and his accuser Christine Blasey Ford are prepared to give before the Judiciary Senate Committee Monday they would have felt as though they had no other choice but to vote no on confirming Judge Brett Kavanaugh.