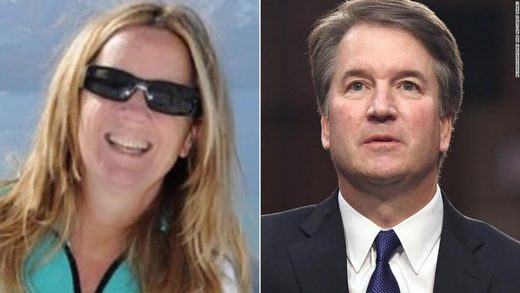 Supreme Court nominee Brett Kavanaugh and the woman accusing him of sexual crimes will both testify next Monday over her accusation that he sexually assaulted her while they were teenagers in high school.
Sen. Orrin Hatch (R-UT), a member of the Judiciary Committee, confirmed that the public hearing will happen on Monday, September 24. It is unclear whether the vote to confirm Kavanaugh has been delayed, or if the vote will still occur and the testimony will happen anyway. We assume the former.
Kavanaugh's accuser, Christine Blasey Ford, has a
hazy recollection
of the incident, admitting
she doesn't specifically remember the year it happened, where the incident occurred, whose house it was, how she got there, and whether Kavanaugh and a witness (who denies the account) were already upstairs when she went up, and how she got home that night.
The announcement of next Monday's testimonies comes after several closed door meetings by Republican members of the panel, with Chairman Chuck Grassley (R-IA) saying: "As I said earlier, anyone who comes forward as Dr. Ford has done deserves to be heard. My staff has reached out to Dr. Ford to hear her account, and they held a follow-up call with Judge Kavanaugh this afternoon. Unfortunately, committee Democrats have refused to join us in this effort. However, to provide ample transparency,
we will hold a public hearing Monday to give these recent allegations a full airing."
As
The Hill
notes, Monday's hearing is sure to be a total circus:
The public hearing will spark a media frenzy around Capitol Hill, where the allegations against have Kavanaugh drawn to the Anita Hill hearings, in which a former colleague of Supreme Court Justice Clarence Thomas testified about allegations of sexual harassment. Thomas was confirmed despite Hill's testimony, which was carried live on television at the time.

The White House said on Monday that Kavanaugh is ready to testify as soon as Tuesday if the Senate asks him to. -The Hill
"Judge Kavanaugh looks forward to a hearing where he can clear his name of this false allegation. He stands ready to testify tomorrow if the Senate is ready to hear him," said White House spokesman Raj Shah.
Earlier Monday
President Trump said he is open to hearing Ford's account, and that if there's a delay, so be it.
"I want the American people to be happy because they're getting somebody that is great. I want him to go in at the absolute highest level. And I think to do that you have to go through this.
If it takes a little delay it'll take a little delay
... I'm sure it will work out very well," said Trump.
One might want to patronize their local Costco for a joke-sized bag of popcorn. Next Monday is sure to be entertaining to say the least.