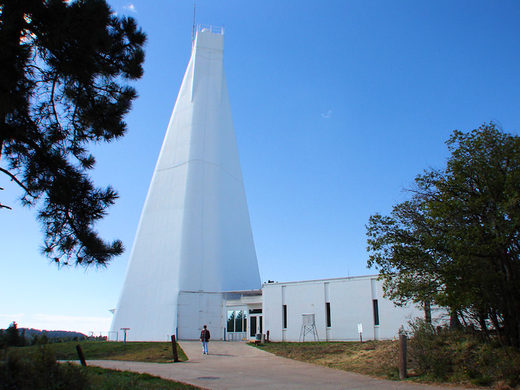 The National Solar Observatory in New Mexico has been closed down for days with little explanation - and people are starting to think it's out of this world.
The research facility at Sacramento Peak was evacuated Thursday last week as was a nearby United States Post Office.
It's not clear when they will open their doors again.
The Association of Universities for Research in Astronomy, which operates the Sunspot observatory, said in a statement to the Daily News Wednesday afternoon that it is "addressing a security issue."
Officials decided to "temporarily vacate the facility as a precautionary measure," spokeswoman Shari Lifson said, adding AURA is "working with the proper authorities on this issue."
She declined to provide additional details on the security problems, though the rest of NSO's facilities remain open.
Meanwhile, employees at a post office near Sunspot have been temporarily transferred to another post office in Cloudcroft,
KVIA
reported.
Otero County Sheriff Benny House said his department has been mostly left in dark on the situation, saying area officers were put on standby during the Observatory evacuation but did not receive any further details.
"The FBI is refusing to tell us what's going on," he told the
Alamogordo Daily News
.
"There was a black hawk helicopter, a bunch of people running around antennas and work crews on towers but nobody would tell us anything."
House said he, like everyone else in the community, has a lot of questions about what prompted the sudden closure of the NSO facility. He speculated that perhaps someone threatened a staff member at the National Solar Observatory - a theory he almost immediately walked back.
"If that's the case, why did they call us and let us deal with it?" House wondered. "These guys are regular workers that work for this company. I don't know why the FBI would get involved so quick."
People in the area and online did have one inkling: Aliens.
"If you guys are looking for a conspiracy theory check out what's happening at the Sunspot Observatory in New Mexico right now," Twitter-user
Kangaroocourtz
wrote.
Another
tweeted:
"I'm not saying it's aliens, but..."
The FBI did not immediately return request for comment.
Via
New York Daily News