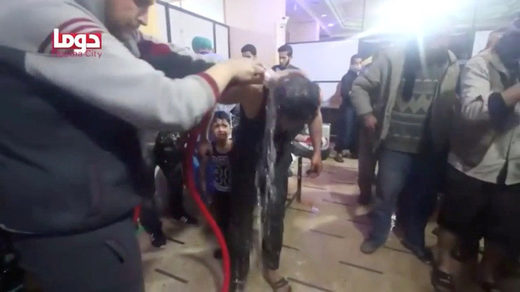 The White Helmets have shot at least nine videos intended to serve as proof in accusations that the Syrian government conducted a chemical weapon attack using chlorine against civilians in Idlib, the Russian military claims.
A number of Middle Eastern TV channels and a regional affiliate of a US broadcaster "have shot nine videos, in Jisr al-Shughur city in Idlib province, of a
staged chemical attack" that will be blamed on the Syrian government,
the Russian Reconciliation Center In Syria said in a statement on Wednesday.
All videos show activists from the White Helmets group, which purportedly provides assistance to civilians, the statement claims.
The Russian military details that on September 11, the White Helmets and terrorists from Tahrir al-Sham (commonly known as Al-Qaeda in Syria) held a meeting following the filming process, in which they selected two out of nine videos for future transfer to the United Nations and the Organisation for the Prohibition of Chemical Weapons (OPCW). The remaining videos are to be used for propaganda on social media networks due to the poor quality, the military claims.
At the same time,
since September 9, the White Helmets have been staging rehearsals of an alleged chemical attack in Khan Shaykhun,
Russian officials say in the same statement, claiming that the rehearsals feature up to 30 civilians, including a dozen children aged 8-12.