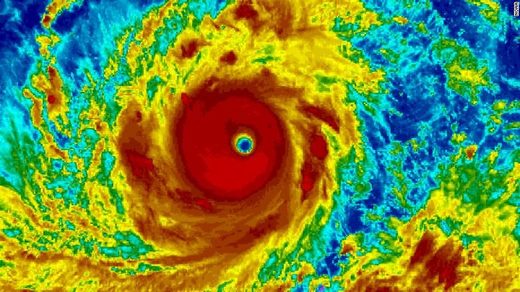 Lessons learned from last week's typhoon Jebi lead to early planning as the island prepares for the worst
Taiwan is bracing for super typhoon Mangkhut, described by local weathermen as one of the strongest this year, which may hit the self-ruled island on the weekend.
Mindful of the power of Jebi, which killed at least 11 people and left a trail of destruction in Japan last week, the island's government had already started preparing for Mangkhut, even before it was upgraded to a super typhoon on Tuesday, a government spokeswoman said.
Packing maximum winds of 200km per hour, Mangkhut is moving at a speed of 21km per hour in a westerly direction, according to Taiwan's Central Weather Bureau.
As of Wednesday morning, the typhoon was spotted 1,865km east-southeast of Elunabi, the southernmost tip of the island.
"If there is no change in its direction, we will not rule out the possibility of issuing a sea warning on Friday afternoon," said Cheng Chuan-fang, weather bureau forecaster.
If the typhoon maintains its westward direction, it could strengthen further and whip the southern and south-eastern parts of the island between Friday night and Saturday morning, she said.
The typhoon was reported to have further strengthened before dawn on Wednesday before it nears the Philippines.
Upon learning of the approach of Mangkhut, Taiwanese Premier William Lai Ching-te went to the weather bureau on Sunday to understand how destructive the typhoon might be.
"He immediately instructed the Water Conservation Bureau to coordinate with various local governments, especially those which could bear the brunt, to prepare for the typhoon," said Kolas Yotaka, spokeswoman of the cabinet.
She said Lai also asked local governments to set up their crisis management mechanisms, to be supervised centrally, to offer speedy and effective assistance to the needy.
Forced evacuations will be conducted to ensure people's safety should serious flooding and landslides occur, she said, adding the government hopes to prepare as much as possible to help reduce losses of life and property, especially after the serious damage to Japan caused by Jebi.
According to Japanese authorities, at least 11 people were confirmed dead and more than a million homes remained without power last Wednesday, as the country counted the cost of the most powerful storm to hit the mainland in 25 years.
Typhoon Jebi was reported to have peeled roofs off buildings, flipped vehicles, toppled power poles and sent a 2,700-ton tanker crashing into the side of a bridge.
The operator of flooded Kansai International Airport, where around 3,000 tourists were stranded while the storm crossed over Japan, began transferring passengers by high-speed boat and bus to nearby Kobe port, media reports said.