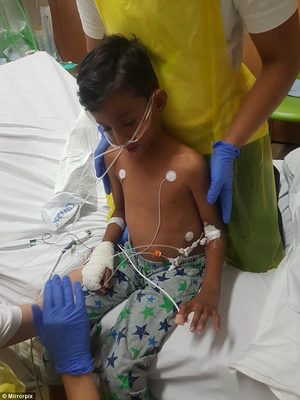 A seven-year-old British boy has been left fighting for his life after getting food poisoning while on holiday
at a five-star resort
in
Egypt
.
Luay Mohammed has spent more than three weeks in intensive care with complications including sepsis and a stroke after contracting salmonella in the Tia Heights at Makadi Bay in Hurghada.
The hotel is near the resort where British couple John and Susan Cooper died last month after falling ill in mysterious circumstances.
According to reports Mohammed fell ill while on holiday but his condition deteriorated when he returned home.
On Thursday this week, Luay suffered a series of seizures and a stroke while in hospital and his condition is said to be critical but stable.
Speaking from Birmingham Children's Hospital, his mother Fathia Obayd said: 'It was ­terrifying. I thought we were losing him.'
He is today awaiting MRI scan results and spinal tests to help doctors identify any long-term damage and is still getting ­treatment to repair a collapsed lung.
Fathia, 30, added: 'I was so scared we would lose him. It makes me so angry this all began with food poisoning.
'Luay is just a little boy. He'll be in hospital a while yet but he is a fighter.'
Luay Mohammed
contracted salmonella
at the Tia Heights at Makadi Bay in Hurghada, Egypt
The deaths of Susan, 63, and John Cooper, 69, from Burnley last month are still under investigation.
Two guests were last week evacuated from the Egyptian hotel where the British couple died last week claiming they have an infection known as shigella.
Shigella is a contagious cause of food poisoning which is said to kill hundreds of thousands a year worldwide.
Samples showed the mother and daughter had the bacterial infection
, a health officer told The Daily Telegraph.
Comment:
The Daily Mail also reports:
Eight guests at a wedding of a British person in Lake Garda, Italy have been hit with a mystery illness.

It is not clear if the guests have food poisoning, or something more sinister, as local police attended the scene amid fears guests' drinks were spiked or food was contaminated.

The guests were celebrating in the romantic resort of Brenzone, near Verona when paramedics rushed to the scene at 2am today.

Eight guests at a wedding of a British person in Lake Garda, Italy have been hit with a mystery illness

They were taken to two separate hospitals where some guests were told their condition was severe. It is believed one has now been discharged.

A spokesperson for the Foreign Office said they were not aware of the case.

The wedding was held at a private property in Malcesine, on the eastern shore of Lake Gard before guests moved to Brenzone for the wedding reception, according to Italian media.

Italian police are exploring various theories, including guests may have become ill from homemade biscuit bought to the wedding by one of the guests.
So, is there actually an unusual rise in cases of food poisoning and contamination or is it merely the publicity they're receiving that makes it seem that way?
See: