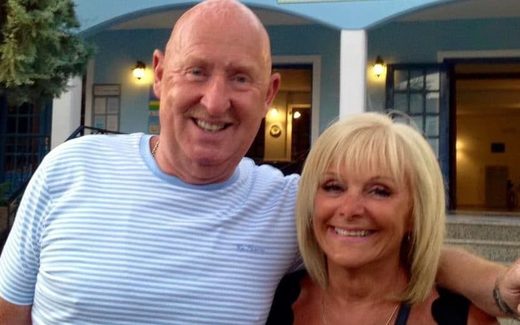 A British couple who died suddenly on a Thomas Cook holiday were "fit and healthy" before they left home, their daughter has said, as around 300 holidaymakers are evacuated from the same Egyptian hotel after more guests fell ill.
The
travel company
took the decision to evacuate its remaining customers at the Red Sea resort "as a precaution" following the deaths of John and Susan Cooper.
The couple, from Burnley,
Lancashire
, were on holiday at the Steigenberger Aqua Magic Hotel in Hurghada with their daughter, Kelly Ormerod, and her three children when tragedy struck.
Describing the "horrendous ordeal", Mrs Ormerod said her parents "had no health problems at all" before their holiday, adding that the family are in "utter shock" as they await results of post-mortem examinations.
As the cause of their deaths is investigated, Mrs Ormerod reportedly told local officials she believes an alleged faulty air conditioning unit might have been involved in her parents falling ill.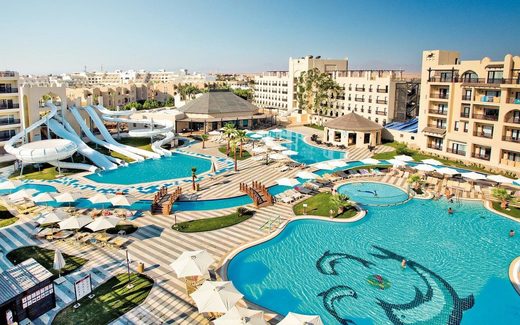 The Steigenberger Aqua Magic hotel 'offers all sorts of goodies for an unforgettable holiday', according to the Thomas Cook website
Local officials insist the pair died of natural causes.
But Thomas Cook said the hotel was being evacuated after it received
reports of a "raised level of illness among guests".
It said 301 holidaymakers will have options for alternative hotels from Friday, when those wishing to go home will be flown back to Britain.
Ahmed Abdullah, the governor for the Red Sea province, insisted Mr Cooper, 69, and his 64-year-old wife died from natural causes.
"The husband fell sick and was taken to hospital, where he died," he said. "About three hours later his wife had a shock and died."

Comment: It's pretty shocking that a local governor would say something so unbelievable.


It comes 11 years after the operator was rocked by
the deaths of Bobby and Christi Shepherd
, aged six and seven, who died from carbon monoxide poisoning at the Louis Corcyra Beach Hotel, in Corfu, in October 2006.
At their inquest, it was found
the firm breached its duty of care over the deaths
. There is no suggestion the latest incident has any link at all to that case.
Mrs Cooper was a Thomas Cook employee who worked at a Burnley branch, which was closed on Thursday as a mark of respect.
Mr and Mrs Cooper were described as "very, very close" by family friend Alban Barker on Thursday.
The 70-year-old told
The Telegraph
: "John was very talkative - he always had a funny story to tell. You could never get a word in because he was just so chatty and full of life.
"I would frequently see him in the local pub after Burnley football matches and he would always spend 20 minutes chatting to everyone. We are devastated to hear the news."
Mr and Mrs Cooper were "fit and healthy" before their holiday, their daughter said.
Kelly Ormerod said the family were in "utter shock" as they awaited results of post-mortem examinations on the couple, who had booked the holiday with Thomas Cook.
In a statement to Lancashire-based radio station 2BR, Mrs Ormerod said: "As a family we are devastated. Mum and Dad meant the world to me and the children, and we are in utter shock over what has happened and what is happening.
"Prior to going on holiday, Mum and Dad were fit and healthy. They had no health problems at all.
"What I want is to clear up some of what is being reported.
We have no cause of death, a post-mortem is under way."
She added: "Dad never went to hospital - he died in the hotel room in front of me. I went to hospital in the ambulance with Mum, where she passed away.
"Thomas Cook have been amazing, we have support from the company and I can't praise them enough for what they've done.
"My focus is on getting my children home. All we want is answers about what has happened and a cause of death.
"I'd also like to thank people at home for their messages of love and support during this horrendous ordeal."
Carole Mackenzie, head of customer welfare at Thomas Cook, has travelled to the resort in Egypt following the incident.
In a statement, Thomas Cook said: "We are deeply saddened by the tragic deaths of two of our customers who were staying in the Steigenberger Aqua Magic Hotel in Hurghada, Egypt.
"The circumstances of their deaths remain unclear. We are aware of the
speculation in some of today's media that their deaths may have been caused by carbon monoxide poisoning. Currently we have no evidence to support this.
"A team of 24 Thomas Cook representatives have been supporting our 300 customers in the hotel overnight. We are offering customers alternative hotels within Hurghada, as well as giving them the option to return home."
The beach at Ad-Dahar on the Red Sea resort of Hurghada Credit: Krzysztof Dydynski
The company added: "For those customers who choose to come home, we have made arrangements to fly them back today, 24 August.
"While we understand this is upsetting for those on holiday, we believe this is the right thing to do.
"We continue to work closely with the hotel and are supporting the authorities with their investigations. The Steigenberger Aqua Magic Hotel was last audited by Thomas Cook in late July 2018 and received an overall score of 96 per cent.
The Steigenberger Aqua Magic Hotel was last audited by Thomas Cook in late July and received an overall score of 96 per cent.
"We will be contacting those customers due to travel to the Steigenberger Aqua Magic Hotel in Hurghada in the next four weeks to offer alternative holiday options," the statement added.
The listing for the hotel on the Thomas Cook website includes a line saying "Sorry, there is currently no availability".