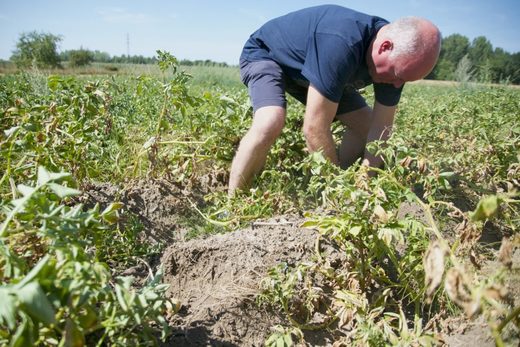 Food vendors in Belgium are praying for rain as the hot weather threatens the supply of the country's national dish, frites.
The Europe-wide heatwave has shrunk Belgium's early crop of potatoes by about one-third compared with an average year. Without significant rainfall over the next few weeks,
the key September and October harvests could be smaller still.
The heat impacts not only the yield, but the size of the potatoes and the roughness of their skins. If they are too tough, they cannot be handled by the peeling machines used by chip manufacturers.
The price of the bintje potato, the traditional variety used in creating the frite, or frieten, as people say in the Flemish-speaking north of the country where the crisis has most been felt, has already shot up. And it is likely to rise further, turning the cheap Belgian snack into a rather expensive one.
Bernard Lefèvre, the president of Unafri-Navefri, the stallowners' association, told Politico: "It's a subject that is at the heart of our job.
"Prices have already increased and potatoes will be smaller
, but it isn't clear yet. We are hopeful. It's the first time Belgians are praying for more rain ...
"Frites are essential. It is vital. It is part of our culture. It's more than a product - it's a symbol of Belgium."
Belgium, not noted for a lack of rain, has
applied to the EU for emergency funds
to deal with the drought, which has most heavily impacted the north of Flanders, in terms of the quantity and quality of potatoes.
"We can't know if the harvest is 100% good or bad until September, but it's true that if everything continues like it is, it's not great for frites," Lefèvre said.
Romain Cools, the secretary general of Belgapom, the country's largest potato grower, said:
"
Drought combined with heat kills plants. This is disadvantageous, especially for the early potatoes that are harvested at this time.
"It is a disaster in the fields that the farmers could not irrigate. We record losses of around 30% ... This year, the market looks very different from last year.
"In 2017, a tonne of potatoes was trading at €25 because the supply was very substantial. Now, we are talking about €250 to €300 per tonne."