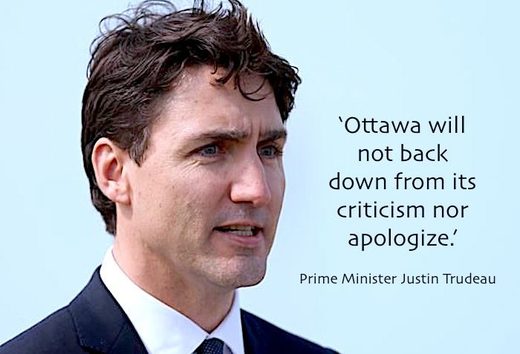 Russia, on August 8, came out in support of Saudi Arabia
in its dispute with Canada over Riyadh's arrest of women's rights activists, saying
it is "unacceptable" for Ottawa to lecture the kingdom on human rights.
Saudi Arabia froze new trade and investment with Canada and expelled the Canadian ambassador this week after Canada publicly called for the release of arrested human rights activists.
Russian Foreign Ministry spokeswoman Maria Zakharova said on August 8 that
human rights should be promoted, but with respect for specific national customs and traditions.
"We believe that Saudi Arabia, having embarked on a path of large-scale social and economic reforms, fully has the sovereign right to decide how to move forward in this important area. We have always said that the politicization of human rights matters is unacceptable," Zakharova said. "What one probably needs in this situation is constructive advice and assistance rather than criticism from a 'moral superior.'"
The Saudis have announced an array of sanctions against Canada, from suspending all flights to and from Toronto, to ordering home over 15,000 Saudi students studying in Canada.
Canadian Prime Minister Justin Trudeau said on August 8 that Ottawa will not back down from its criticism or apologize, despite demands from Riyadh to do so.
Canada will continue "to speak strongly, firmly, clearly, and politely about the need to respect human rights at home and around the world," he told reporters in Montreal.