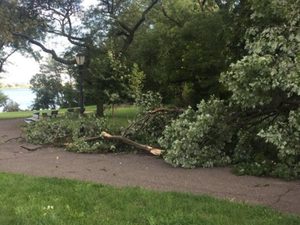 A rare tornado caused damage in New York City's borough of Queens Thursday night.
According to
ABC7NY
, the quick-moving storm moved through the area around 10 p.m. Thursday night and reportedly toppled trees and downed power lines. Damage to cars and homes was also reported.
The National Weather Service issued a tornado warning that was in effect through 10:45 p.m. Thursday for parts of the Queens, the Bronx and Long Island.
The NWS sent a survey team to the College Point and Whitestone area of Queens this morning to determine if the damage was caused by a tornado. Their results confirmed an EF0 tornado touched down in the College Point section of Queens and traveled about 0.7 miles before ending in the Malda neighborhood.
The tornado produced winds of 70-85 mph and had a maximum path width of about 100 yards. No injuries or fatalities have been reported.
In addition to downed trees and power lines, siding was pulled off several homes as the tornado moved along its path.
A Queens resident told AccuWeather on Friday that "everything was fine" Friday morning and that most of the damage in the Whitestone area was confined to a section along the waterfront and under Whitestone Bridge.