Noctilucent clouds (NLCs) are behaving strangely.
Normally, NLCs begin to dim in late July, then fade away completely as August unfolds
. It is their seasonal pattern.
This year, though, the night-shining clouds are surging as July comes to an end
. "We had a mind-blowing display of noctilucent clouds display on July 26th," reports Kairo Kiitsak, who sends this picture from Simuna, Estonia: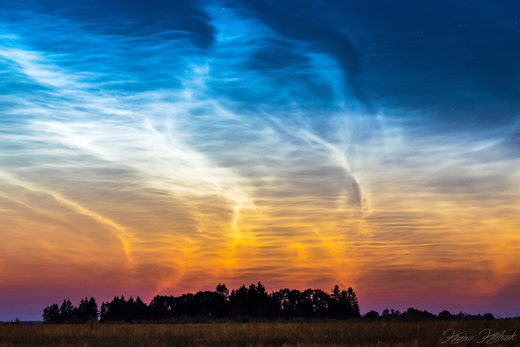 "The rippling structure of the clouds was amazing," says Kiitsak. "In all, the display lasted for full three hours."
The clouds rippled as far south as Poland, where Marek Nikodem saw them before sunrise on July 28th: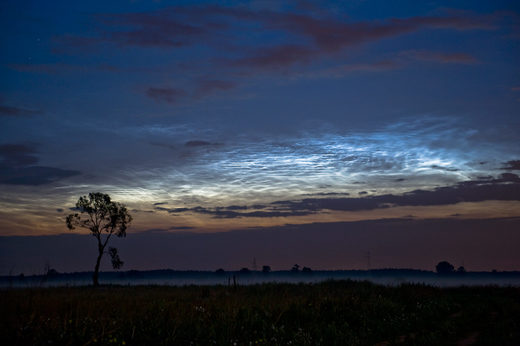 "It was quite a surprise," says Nikodem. "As a rule, the NLC season in Poland ends around July 25. But not this year, today in the morning there was a bright and really beautiful display."
Noctilucent clouds form when summertime wisps of water vapor rise to the top of the atmosphere and wrap themselves around specks of meteor smoke. Mesospheric winds assemble the resulting ice crystals into NLCs.
In 2017 a
heat wave in the mesosphere
melted those crystals, causing a brief "noctilucent blackout." Could something similar, but opposite, be happening now? Perhaps a cold spell in the mesosphere is extending the season
. Another possibility is the solar cycle.
Previous studies
have shown that NLCs sometimes intensify during solar minimum. Solar minimum conditions are in effect now as the sun has been without spots for 30 of the past 31 days.
Stay tuned for updates.