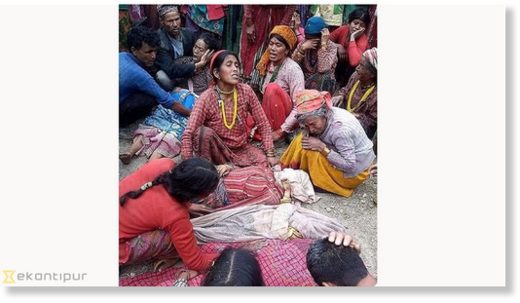 At least three people were killed after a landslide buried a shed at Phuldhara in Sunil Smriti-8, of Rolpa district on Monday.
According to the District Police Office, the deceased have been identified as 18-year-old Chameli Pun, 12-year-old Obi Gharti and 18-year-old Hume Gharti. The victims were sleeping inside the shed were when the landslide buried them.
Police said that the landslide triggered by incessant rain of Sunday night buried the shed.
DSP Gyanendra Prasad Phuyal said they are preparing to bring the bodies of the deceased to the district headquarters for post-mortem. The incident site is around 12 kilometres away from Sulichaur, the administrative centre of rural municipality.
A month ago, three people were killed in a landslide at Runtigadhi Rural Municipality in Rolpa.