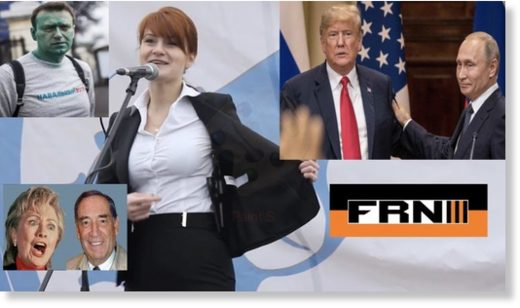 "She really did not pass on anything that you couldn't find in the local newspapers..." -Julie Wheelwright
The arrest of Maria Butina hardly seems a case of Mata Hari, but the quote seems apropos at first glance. But then, things get interesting and we can begin to understand why the indictment is vague and only alludes to, rather than names, certain facts.
However, before we go where the Department of Justice dare not name in the indictment, it should be noted
if guilt by association is the DoJ standard
, then Butina should be exposed as a quadruple agent in circumstance (of fantasy) too embarrassing to the Americans to pursue in open court.
First, the official BS, excuse me, trial and conviction by Western press, including disingenuous neo-liberal foreign press
which insists
Butina is:
"None other than the assistant to a Russian Central Bank executive"
Well, yes, that's one small part of the story but what is missing should change the perception completely. The Russian Central Bank is historically 'liberal' territory in post Soviet Russia.
Putin is not the flat-out autocrat portrayed by Western media, it's much more complex than that. What Putin must do is balance competing interests and economics is where a solid portion of the Russian liberal element
is partnered with
Putin.
As well, you can be a Russian liberal and belong to Putin's 'right-wing' United Russia party, just
have a look
at Dmitri Medvedev. Meanwhile, it is Alexander Torshin the Bank executive Butina is associated with in an April 2018
hit piece at Rolling Stone
foretelling Butina's arrest:
"Torshin, now 64, is a roly-poly politician, perhaps five feet six, with thick glasses and a passion for borscht - "like medicine!" he once tweeted. A member of Putin's right-wing United Russia party, he served in the Russian senate for more than a decade, forging close ties to Russia's internal security service, the FSB, which awarded him a medal in 2016. His embrace of Keene, says Steven Hall, who served as chief of Russian operations for the CIA until 2015, was about more than forging "an international brotherhood of the NRA""
Already the CIA Russia expert has been true to form and twists reality with insinuation the Russian [internal] Federal Security Service (FSB) awarding Torshin a medal implies Torshin is tied to external espionage.
"
Unlike the Russian
Federal Security Service (FSB), the SVR is tasked with intelligence and espionage activities outside the Russian Federation"
Nowhere in the RollingStone article does the SVR (Foreign Intelligence Service) come up. Why? Particularly concerning this next where RollingStone goes on:
As part of Putin's "active measures," Hall says, Russia has attempted to influence right-wing and populist factions abroad, preaching unity around social conservatism: "'We're both religious-based countries - we have the Orthodox Church that's a big deal for us.' " The Russians, Hall believes, "made a natural transition in the United States to the NRA"; over time Putin became determined to exploit the American gun lobby "and decided Mr. Torshin is going to be the guy to do it for him."
You know, I just don't believe Vladimir Putin is personally running espionage operations as a case handler or even operational planner. He's probably very tied up with running the largest geographic nation on Earth. But if you read Western press, they'd have you believe Putin micro-manages all of the fantastic plots aimed at James Bond, the USA and the Western world as a whole.
Let it suffice to say RollingStone goes on and over the top with name-dropping Anna Chapman in a bizarre twist that bring up the Skripal poisonings and guess what else? They cite Glenn Simpson, founder of the firm tied to the severely debunked 'Steele Dossier.'
RollingStone reporter Michael Hastings, whose car computer became possessed and ran him into a tree at high speed where the car exploded like a super-sized limpet mine, when investigating the CIA's John Brennan going after independent journalists, must be '
RollingOver
' in his grave. I think we know who is dictating to that recently become a yellow rag, RollingStone, these days.
What can we know about Maria Butina that appears nowhere in Western press?
How about
:
"In 2014, Maria Butina participated in the Civic Chamber's electronic elections. Anti-corruption activist Alexey Navalny, whom many in the West know as the leader of the anti-Putin opposition, endorsed her candidacy, saying, "Butina lobbies for the civilian right to bear arms and is almost the only person leading a normal election campaign." Butina failed to win a seat in the chamber. Sources who worked with Butina told Meduza that she has "oppositionist views" and "took part in the Bolotnaya protests," but being a "fan of the gun idea in Russia" she was read to work "with both the opposition and the party of power""
Oops.
Butina is actually politically aligned with the Western favorite liberal (but perennial Russian loser) Alexey Nalvany? This proposed fact (Nalvany's endorsement of Butina) checks out. That certainly doesn't square with her being an insider Kremlin tool and a spy for Putin.
Have a look at
the source
of the preceding quote:
"Meduza is run by a team of around 20 journalists who resigned from their jobs at Lenta.ru following Galina Timchenko's unexpected removal from her post by the website's owner and Vladimir Putin ally, the oligarch Alexander Mamut"
Oops again, not only did opposition reporting develop this information, Sputnik took notice,
reporting the same
essential facts as a news outlet that is most definitely not aligned with Putin, in fact the opposition publication had taken their journalism project out of Russia (to Latvia, to keep publishing), abandoning the employ of Putin's ostensible (according to Wikipedia) oligarch buddy.
So the Russian state media and a independent opposition media outlet, both, agree Butina is ideologically aligned with the Putin opposition. I would suppose that's why Butina felt safe in America.
That, and because she's blonde.
What else can we know about Butina other than she's Putin opposition aligned, worked in a liberal dominated wing of the Russian state and shares a gun enthusiasm with her boss Torshin? That she'd been very competent in her (economics related) job. What other critical fact has Western press concealed? The fact Putin's government had shut down the 'Right to Own Arms' organization founded by Butina.
Accordingly, we have the quadruple agent Butina; works for Putin's government, is opposed to Putin, is aligned with the USA supported Russian opposition figure Nalvany, and is a Russian agent opposed to the USA. Oh my. Common sense says at most only 1/2 of this could be true, and one could begin down that path to reality by simply pointing out a competent assistant to a governor of the USA's Federal Reserve Bank might not like Trump and still keep her job. The parallel is not far fetched.
Now to where the cloud cover is a bit more difficult to penetrate, that is the 'alluded to' but unnamed organization in the DoJ's indictment of Butina.
However RollingStone had 'anticipated' the Department of Justice going after Butina in a case implicating the National Rifle Association in what amounts to a new screen-write or Russia-Trump collusion sequel, and with the indictment Western press is all over that story like flies on stink, it is 'The Young Turks' Ken
Klippenstein identifies
the National Prayer Breakfast, a front organization for one of the meanest segments of the USA's 'shadow government' (most influential & wealthiest military-industrial corporate board personalities), that is the Doug Coe cult, as the DoJ's unnamed target of Butina's proposed espionage.
Klippenstein gets his story at least half wrong, beginning with giving credit to the DoJ's assertion Butina is a Russian agent. But his story is worth examining if only for the fact he has identified the unnamed group in the indictment and therein lies greater implications as to what this entire business might actually be all about:
"The Justice Department on Monday charged Mariia[sic] Butina, a Russian national, with infiltrating U.S. groups to covertly promote Russian interests. One group Butina is alleged to have worked with is the organization-unnamed in the supporting affidavit-behind the National Prayer Breakfast"
"The Family" or "The Fellowship" is the Doug Coe (d. February 2017) cult's self-referred name The National Prayer Breakfast fronts for. It was cult member Mike Pence who had been present, and was part and parcel of bringing Donald Trump under the guidance of the cult, when introducing President-elect Trump to Coe (December, 2016),
where Coe demanded
Trump attend the National Prayer Breakfast. As for this next...
"We work with power where we can and build new power where we can't"
...at first glance it could easily be misconstrued to be a quote of George Soros associated with neo-liberal sponsored 'color revolution' but in fact it is a
Doug Coe quote
.
This hyper-Christian-Zionist cult devoted to power for the sake of the powerful does experience some crossover with the neo-liberal elements of the shadow government (Hillary Clinton had been a closet Coe cult member) but it would appear there is no monolith structure behind the deep state minions, rather a rivalry.
Excluding the immediate preceding quote & (my) observations, The Young Turks article asserts:
"The National Prayer Breakfast is organized by The Fellowship Foundation, a Christian group based in Washington that is famously secretive. Its members take a vow of silence about Fellowship activities.

"But federal records show the Fellowship has reported sponsoring 37 trips abroad by individual members of Congress in the last 18 years. Fourteen of those trips have been by Rep. Robert Aderholt (R-Ala.), co-chair of the 2016 National Prayer Breakfast. Since 2008, Aderholt took 11 out of 17 trips sponsored by the Fellowship.

"A number of countries to which the Fellowship sent Aderholt are in politically volatile or contested regions between Russia and NATO nations.

"In 2016, the Fellowship paid for Aderholt to travel to Belgrade, Serbia; Sarajevo, Bosnia-Herzegovina; Zagreb, Croatia; Kiev, Ukraine; and Banja Luka, Bosnia-Herzegovina. That trip took place just days after President Trump secured the Republican nomination, from May 26 to June 2 of 2016.

"In 2017, Aderholt traveled to Romania, Bulgaria, and Austria.

"In one sponsor form filled out by the Fellowship, Vice President Michael Foster writes that, "Because Congressman Aderholt was a Co-Chair for the National Prayer Breakfast held in February 2016, the organizers of the Ukrainian Prayer Breakfast asked him to be the primary speaker at theirs. He also brings a strong stand on such issues like marriage, family, and the values of Jesus. He is an experienced and active supporter of reforms in Ukraine."
Now, let's separate these preceding paragraphs from this next paragraph...
"The affidavit refers to multiple Russian contacts with unnamed individuals associated with the National Prayer Breakfast. It says Russia was cultivating political contacts in the U.S. to "weaken U.S. partnerships with European allies, undermine Western sanctions, encourage anti-U.S. political views, and counter efforts to bring Ukraine and other former Soviet states into European institutions."
...and re-contextualize the actions of 'The Fellowship' (Coe cult) separately from the assertions of the Department of Justice. Yes, Russian external intelligence quite possibly would be absolutely interested in the activities of the Coe cult, with its'
long history of lobbying the leadership of nations where it sees opportunity to benefit the über-right wing of the American military-industrial complex stakeholder
. Particularly in case where this (in bold) description preceding would exclude Putin but include Nalvany.
Was it the Coe cult had actually set out to groom Maria Butina as opposed to Butina being an agent of Russia ingratiating herself to the cult? The possibilities are intriguing.
Recalling Coe's mission statement
"We work with power where we can and build new power where we can't"
, the Coe cult's networking points to alignment with recent decades USA foreign policy, particularly during a period of detente with American neo-liberalism where the transition from Bush to Obama had seen practically seamless continuity of empire.
But Coe is dead and his longtime influential liaison to the neo-liberals, Hillary Clinton, is sidelined and
whatever you might think of Donald Trump, even while captured and used,
he's not playing
according to script:
"Ahead of the meeting, staffers provided Trump with some 100 pages of briefing materials aimed at laying out a tough posture toward Putin, but the president ignored most of it, according to one person familiar with the discussions, who spoke on the condition of anonymity to disclose internal deliberations. Trump's remarks were "very much counter to the plan"
Who're those advisors? With Trump's social engineer, Steve Bannon, pushed out and other nationalist-populist minded Trump advisors either fenced out or facing prosecutions, the White House has been taken over by cult member Pence aligned Christian Zionists, inclusive of the generals Mattis and Kelly.
The erstwhile detente with the neo-liberal American military-industrial oligarchs has broken down, they're demanding Trump's head but the cult is leery of alienating Trump's populist base, caught between the proverbial rock and a hard place as it were.
In this proposed scenario, there is imminent threat concealed in the DoJ indictment of Maria Betina, what she has done is little different to, if different at all, to the core of how the National Prayer Breakfast operates; after-all,
it is all about, and has always been all about, unregistered agencies networking, lobbying, pursuing unsanctioned espionage, and generally serving as a front for myriad illegal activities beyond the boundaries set out in American law ... to the benefit of the ultra-right of American's military-industrial complex. If Butina can be prosecuted for her networking, so can the lot of them.
This has to be the underlying reason for house Republicans preparing articles of impeachment for Rod Rosenstein and demand for Special Counsel Robert Mueller wrap up and get out.
As much as the Coe cult would like to get rid of Trump themselves, they don't know how, except to defect to the neo-liberal position and abandon and alienate Trump's base, something they've been unwilling to do, to now.
If Russia has its moles in the National Prayer Breakfast, and it may well be the case, Maria Butina is almost certainly not one of them. Her profile is completely wrong, and the military-industrial complex owned Western media's concealment of major portions of her story says a LOT.
At the end of the day, Maria Butina was an ambitious, gun loving Russian liberal (not unusual in Russia) whose networking with the NRA saw her step into the Coe cult viper pit. She never imagined she would be framed by the neo-liberals in endeavor to undo Trump, after-all she had (like Nalvany) naively believed in Western liberal democracy.
A former Special Forces Sergeant of Operations and Intelligence, Ronald Thomas West is a retired investigator (living in exile) whose work focus had been anti-corruption. Ronald is published in International Law as a layman (The Mueller-Wilson Report, co-authored with Dr Mark D Cole) and has been adjunct professor of American Constitutional Law at Johannes Gutenberg University, Mainz, Germany (for English credit, summer semester 2008.) Ronald's formal educational background (no degree) is social psychology. His therapeutic device is satire.