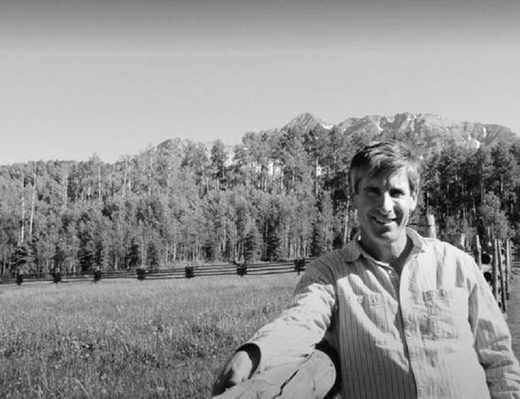 For a third day, San Miguel County Search and Rescue, Sheriff's deputies and a cadre of citizen volunteers combed the wilderness area around and on Iron Mountain, where Tim Cannon had reportedly spent Sunday hiking. On Wednesday, a private K-9 search and rescue unit from Dolores joined the search party. As of press time Wednesday afternoon, there was still no sign of the missing man.
Cannon, 55, left his home early Sunday morning, telling his wife, Amy, he would be hiking up Iron Mountain. When he failed to return, Amy's pre-dawn call to 911 on Monday kicked off what has become and extended search for the longtime local
. Considered an experienced hiker, Cannon is assumed to have appropriate gear for a day hike, and knowledge of his surroundings.
His car was found parked at the Deep Creek Road and Last Dollar Road intersection.
Among the challenges facing the searchers is the rugged and exposed terrain above treeline. Iron Mountain, a 12,525-foot peak is part of the Sneffels Range and is characterized by its red hue, a result of iron oxidation coloring its flanks.
The mountain is accessible from the Deep Creek Trail, which links to Iron Mountain Trail. Sheriff's Office Public Information Officer Susan Lilly said that the search efforts have included aerial and on-ground teams that are making sweeps into surrounding areas in hopes of locating Cannon.
Cannon's family issued a statement Tuesday expressing gratitude for the ongoing search and community support. "The entire Cannon family would like to thank the members of the San Miguel SAR, San Miguel Sheriff Department, Colorado Highland Helicopter Crew, CO Division of Fire Prevention and Control, and all the volunteers of the community who are helping to find Tim Cannon and bring him home safely. We want to thank the Telluride community for their incredible strength and compassion, for this effort is strengthening our prayers."
In what Lilly called "an aggressive search" for Cannon, aircraft from the National Guard, Colorado Highlands Helicopters, and Colorado Prevention and Control Multi-Mission Aircraft have been called in and are inserting search and rescue members in the wilderness above treeline, as well as conducting ongoing aerial searches. Lilly said the "weather has been a factor," and that the search each day has gone on until nearly dark.
The Sheriff's Office encourages anyone hiking in the Deep Creek or Sneffels Wilderness areas since Sunday to contact the office at 970-728-1911, if they saw the missing man.
Cannon works at Telluride's U.S. Bank as a mortgage loan officer. He also represents San Miguel County on the Region 10 Board of Directors, a nonprofit organization that provides support and resources for communities in the region.