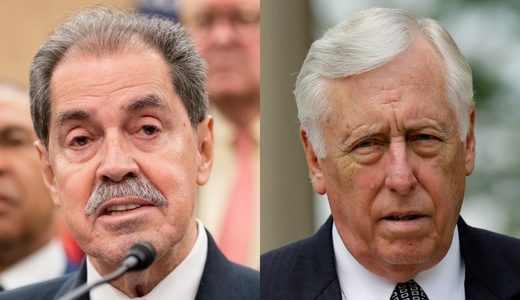 Members of Congress responsible for almost a dozen attempts to repeal the two-term limit on being president have not reintroduced their bills since President Trump took office.
Two sitting lawmakers, Reps. Steny Hoyer, D-Md., and Jose Serrano, D-N.Y., introduced bills repeatedly to repeal the 22nd Amendment, but have not done so under Trump.
Hoyer pushed six bills to repeal the 22nd Amendment between 1995 and 2005, and Serrano led five attempts between 2005 and 2013.
Spokespeople for Hoyer and Serrano ignored repeated requests for comment since May. Voicemails left on Hoyer's cellphone and on a phone line historically linked to Serrano were not returned Friday.
It's unclear if their decision not to introduce the legislation is linked to Trump, or is simply an assessment of the long odds of winning a two-thirds vote in each chamber of Congress, followed by ratification by three-fourths of states.
Although they have not proposed the legislation under Trump, both Hoyer and Serrano pushed the idea while former President George W. Bush was in office, including Serrano during the height of Bush's late-second-term unpopularity.
"While I am not a supporter of the current president, I feel there are good public policy reasons for a repeal of this amendment," Hoyer said in a 2005
statement
.
"Under the Constitution as altered by the 22nd Amendment, this must be President George W. Bush's last term even if the American people should want him to continue in office. This is an undemocratic result," Hoyer said at the time, adding: "Sufficient power resides in the Congress and the Judiciary to protect our country from tyranny."
The 22nd Amendment was approved by Congress in 1947 and ratified by a sufficient number of states in 1951.
It passed after former President Franklin D. Roosevelt disregarded the two-term precedent set by George Washington, winning election to four terms.
Trump has joked about repealing the 22nd Amendment, including while humorously suggesting that he likes the idea of being "president for life," a term used to describe Chinese President Xi Jinping, who recently consolidated power in the authoritarian country.
"Should we go back to 16 years? Congressman, can we have that extended?" Trump said in April at the White House. "The last time I jokingly said that, the papers started saying, 'He's got despotic tendencies!' No, I'm not looking to do it, unless you want to do it."