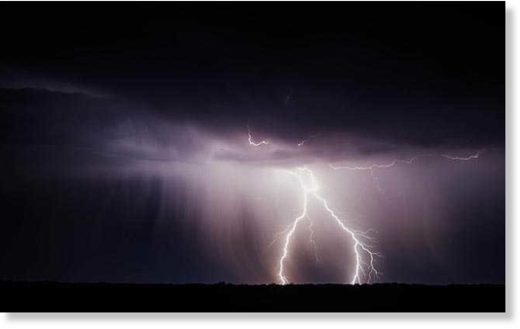 One man was killed and another badly hurt Tuesday in Lake Worth by a possible lightning strike brewed in a swift, but violent afternoon thunderstorm.
Palm Beach County Fire Rescue spokesman Albert Borroto said paramedics were called after someone reported an electrocution at about 2:45 p.m., and later determined the men were likely victims of a deadly shock of electricity from a passing thunderstorm.
Jamil Linares, who lives near Pierce Drive and 22nd Avenue where the men were hurt, said he noticed the men working in a wooded area when several booms of thunder drove him indoors.
When sirens sounded, he walked out to a jarring site. Lightning typically doesn't burn its victims,
but Linares said one man looked like he had been "thrown in and taken out of a fire."
A Top Choice Pest Control truck was parked near the incident and it's believed the men work for the company, which has an address in Royal Palm Beach. Authorities did not disclose the identities of either man Tuesday afternoon.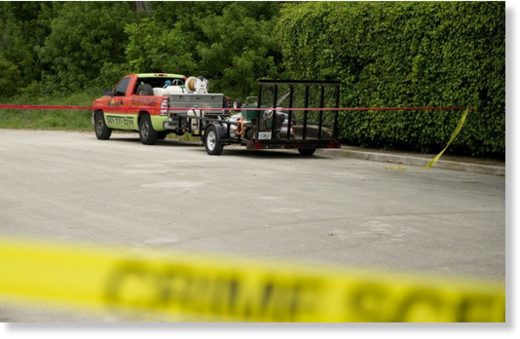 The Palm Beach County Medical Examiner will conduct an autopsy to determine an official cause of death. Most people killed by lightning die from cardiac arrest.
Meteorologists at the National Weather Service in Miami saw the atmosphere knot up into storms near Lake Worth at about 2 p.m., but nothing on radar signaled anything more than a typical summertime thunderstorm.
No advisory was issued.
"It was just an ordinary thunderstorm," said meteorologist Larry Kelly. "It was there and then moved out by 2:45 p.m."
But Florida's summer thunderstorms are noted for their quick escalation with guts that carry deadly charges.
Five people have been killed by lightning in Florida this year, three of which were felled by an afternoon thunderstorm. James W. Barton, 33, was hit around 2:15 p.m. on June 24 on Siesta Key as lifeguards cleared beaches as a storm rolled in.

Jeffrey Mayer, 75, died three days later when authorities believe he was struck by lightning at about 2 p.m. on Lake Owen, northwest of Umatilla in Lake County.

In May, Lake Worth resident Maria Francisco Pascual, 53, was killed at about 2 p.m. by lightning when she was working in a field at C.W. Hendrix Farm along Loxahatchee Road in northern Broward County.
The number of deaths nationwide rose to 12
as of Monday when a Georgia man struck on July 4 succumbed to his injuries.
"Our recommendation is that if people have outside activities to complete that they do it in the morning when it's still safe," said John Jensenius, a lightning expert with the National Weather Service. "Thunderstorms set the rules and they develop often in the afternoons, especially in Florida."
In Palm Beach County, eight people have been killed by lightning since 1996 - all in separate incidents, according to the Storm Events Database kept by the NWS.
But in 2003, two Palm Beach County residents were killed 11 minutes apart after lightning strikes during an August storm.
There have also been multiple injuries from a single strike.

While Jensenius said it's unusual for multiple people to be killed by a single lightning strike in the U.S., nine people were hurt in Pahokee in 1996 when they huddled beneath an Australian pine tree during a storm.

In 2016, three Boca Raton firefighters were injured during a lightning strike that knocked them off their feet and threw one 15 to 20 feet into the air.
"People shouldn't underestimate any storm," Jensenius said. "Every thunderstorm has lightning which means every thunderstorm is a potential killer."