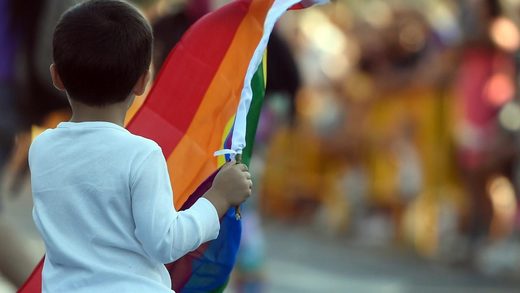 Ohio lawmakers are considering legislation that would protect the rights of parents to determine whether their child should receive treatment for gender dysphoria,
WOSU-Radio
reported.
Reps. Tom Brinkman (R) and Paul Zeltwanger (R) authored the proposal that
would prevent parents from losing custody of their child for allowing or refusing to allow gender-based treatments
for their child who shows symptoms of or has been diagnosed with gender dysphoria.
"They [parents] should have that responsibility," Brinkman told WOSU.
"And if somebody doesn't like it, you're emancipated at age 18 and you can go do whatever the heck you want."
House Bill 658 was inspired by a family court case where a Cincinnati judge awarded custody of a 17-year-old to the grandparents after the teen's parents refused to provide treatment that supported the child's chosen gender. The parents insisted that the teenager receive Christian counseling and wouldn't allow surgery or hormone treatments.
What does the bill say?
Parents would retain the right to decide what is the best treatment of their child who is diagnosed with or shows symptoms of gender dysphoria, according to the bill that was first introduced in May.
"The parents, guardian, or custodian, in exercising the fundamental right to care for their child, may withhold consent for gender dysphoria treatment or activities that are designed and intended to form a child's conceptions of sex and gender," the
bill reads
.
Also, the "state, its agents or political subdivisions" may not infringe or impede on the parent's rights.
Teachers, doctors and others who provide supervision or care for children must notify the parents in writing if they learn that a child may have gender dysphoria.
Gender-related treatment would only be permitted if the parents have been provided with full disclosure about the treatment and they, in turn, have given permission in writing that would allow the treatment.
Parents would be protected from adverse action for refusing to allow any form of gender dysphoria treatment.
What do the critics of the bill say?
Some LGBTQ activists groups believe the bill will cause more harm to transgender youth.
"This unnecessary and discriminatory bill does nothing to support youth and families. In fact, it puts the livelihoods of some of our most vulnerable youth - transgender youth - further at risk with bullying and discrimination by potentially forcing teachers to out them,"
Equality Ohio
, wrote in a post on its website.

Comment: Critics of the bill seem unconcerned with the potential harm that comes with taking away parental rights - both to society and to the many children whose gender dysphoria is temporary, and who would come to regret any decision they made as a teen when their brain wasn't even fully developed.


What do the supporters say?
Supporters believe the bill protects parental rights.
"You can have whatever views you want on LGBT issues and on all of these things," Aaron Baer, president of Citizens for Community Values, told
WCMH-TV
. "This is about ensuring parents are the ones in charge of their child's upbringing, not the state, not anyone else."