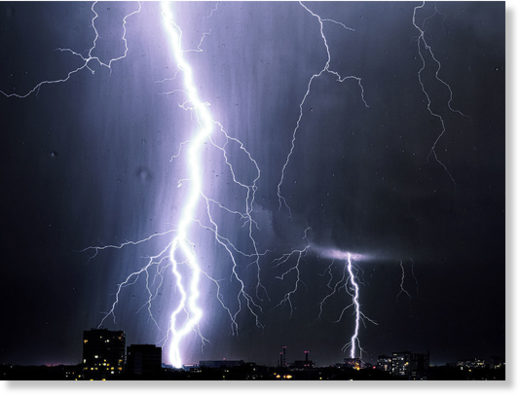 RCMP say the man was taken to hospital, but was pronounced dead there
A 50-year-old man is dead after being struck by lightning in the Tabusintac, N.B., area Friday evening, according to RCMP Sgt. André Pepin.
Lightning struck the man around 6 p.m. in the Straight Brook Road area of Tabusintac, RCMP said.
The man was taken to a hospital where he was pronounced dead, RCMP said.
Rose Mecking works at Tabusintac Chalets and said she was terrified of the "severe" thunder and lightning happening close by.
"It was raining hard and unbelievable. We haven't seen a rain like this in a long time," she said. "It was really dramatic, thunder and lightning hitting one after each other."
The rain fell so hard and fast the ditches outside the Tabusintac Chalets filled up quickly and staff had to stay indoors, she said.
​Lightning strikes Moncton home
Lightning also struck a three-storey home in Moncton later Friday evening, displacing nine tenants, according to a Canadian Red Cross news release.

The lightning struck the Cameron Street home around 9 p.m, which triggered a fire that forced residents to evacuate the building.
There were no injuries as a result of the fire, the Canadian Red Cross said.
"We heard a crack of lightning and a big rumble and the lights flickered just for half a second and within four or five minutes the fire trucks were coming up the street," said neighbour Rick Schella.
"All of a sudden we put two and two together and realized that the lightning had hit the house and the people there were coming out of the house carrying their children and things that they owned."
Disaster volunteers with the Canadian Red Cross have arranged emergency lodging and meals through the Canada Day long weekend for two adults from one unit and may provide similar assistance if needed by the other residents — three adults, three teens and a child.