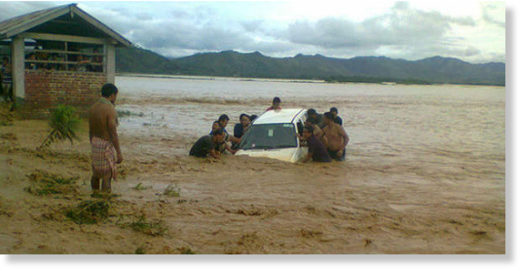 At least three people were killed — two in landslide and one in flood — and over 1.5 lakh people were affected by the first wave of floods that have hit Assam this year even as
370 villages in seven districts continued to be under water for the second consecutive day on Thursday.
Assam State Disaster Management officials said that flood waters have affected 370 villages in seven districts including Hojai, Cachar, Golaghat, Hailakandi, Karimganj, Karbi Anglong (East) and West Karbi Anglong districts.
The flood waters have also affected large tracks of agricultural in different flood affected districts — some with standing crops.
"One person has lost his life due to flood under Bokaghat Revenue Circle in Golaghat as reported on Thursday," ASDMA officials said adding that a total of
166,836 number of population have been affected in the flood.
The ASDMA officials said that two persons have lost their lives due to landslide incident in Mahur under Halflong Revenue Circle in Dima Hasao. "The landslides triggered by incessant rain for last few days have also damaged 166 houses," they said.