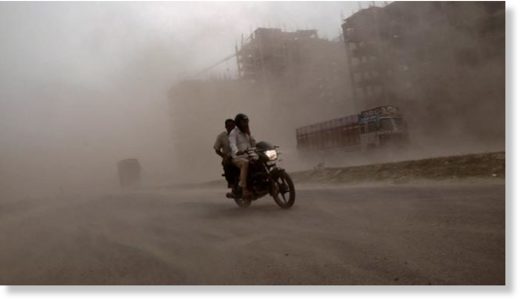 At least 13 people were killed due to dust storms across Uttar Pradesh yesterday.
The districts of Gonda, Faizabad and Sitapur were the worst affected. "13 persons were killed in dust storm in the past 24 hours. While six died in Sitapur, three died in Gonda, two died in Kaushambi and one person each was killed in Faizabad and Hardoi," an official spokesman said in Lucknow.
28 others also sustained injuries at various locations due to the high-velocity winds.
Taking note of this, Chief Minister Yogi Adityanath had ordered district magistrates concerned to ensure proper treatment to the injured.
He also directed that compensation be paid to the kin of those killed and said no laxity will be tolerated.
Expressing grief over the deaths, he said the state government will extend all possible help to those hit by dust storms and related incidents, according to the spokesman.
Meteorological center of Lucknow had issued a warning of thunderstorm and hailstorm in several places of eastern Uttar Pradesh on Wednesday evening.
Over 100 people were also killed last month as dust storms left deadly trail of destruction in various parts of UP and Rajasthan.
(With inputs from Nilanshu Shukla in Lucknow and PTI)