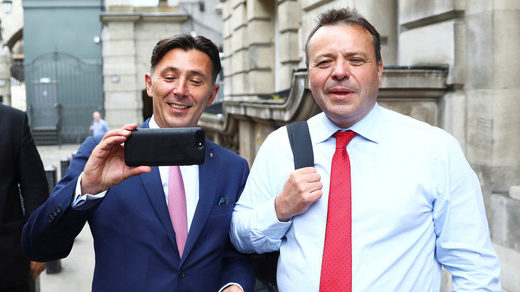 Arron Banks, a key donor to the Leave.EU Brexit campaign admitted meeting the Russian ambassador in London, only to then brief the US security services on the suggestion of a former chief of staff to David Cameron
Banks was giving evidence to parliament's so called Fake News Committee in a room where the number of likeable people were in short supply. Banks and his business partner Andy Wigmore were fresh on the grill as the backers and brains of Leave.EU, the Nigel Farage backed group which did as much as anyone to win the Brexit referendum for the Eurosceptics.
Their presence comes in the wake of Banks being accused in the
Sunday Times
of having links to Russia and suggestions he was used by the Kremlin to influence Brexit, but then again most people who sit before this committee are accused of some kind of links to Moscow. It's always the bear in the room.
During the session, Banks said: "I like to think I'm an evil genius ... that controls the whole of western democracy but clearly that's nonsense" and Wigmore continuously referred to himself as an "Agent Provocateur" so neither scored too highly on the likeability scale.
But what about those allegations?
Banks admitted that he did have three meetings with Russians.
Once with the Ambassador, then again following Donald Trump's election win and another with a businessman about some Russian goldmines which didn't come to anything.
"What do you think first attracted the Russian embassy to Arron Banks, the biggest political donor in UK history?" asked Ian Lucas MP, looking pretty pleased with his plagiarised line.
Wigmore replied: "I'll tell you why, because I asked to meet them. We thought it would be nice to meet them." He then outlined how actually,
he was also working in his role as a diplomat to try and help Belize sell its bananas and sugar.
Banks told the committee he had never accepted Russian money and had "no business interests in Russia, I've done no business in Russia."
Pointing out that in the good old days, it was still ok to talk to a Russian without having to explain yourself to a committee of MPs afterwards, Banks said: "What I'm saying is, we've now got a full-scale Russian witch-hunt going on, but before that it wasn't an issue."
Banks and Wigmore then unexpectedly revealed that they had told the US security services based at the American Embassy in London all about the meetings, and offered MPs the email correspondence to prove it. They did that, they said, on the advice of a former chief of staff to Prime Minister David Cameron. Which poses the question (unasked by these MPs)
why does a British national feel the need to explain about meetings in his own country to American representatives?
And why did a former high ranking British government official suggest it? We shouldn't expect a committee hearing on that kind of interference any time soon.
Throughout, Banks managed to land some shots on the MPs. He made the point that the committee was completely made up of 'Remainers' with "vested interests in trying to discredit the Brexit campaign" that "haven't called any witnesses from the pro-EU Remain campaign."
The easiest way to discredit something in the current climate of course is to link it to Russia, in any way possible.