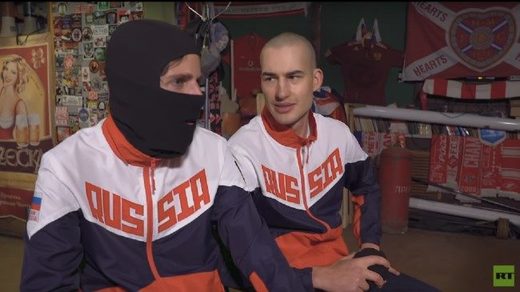 With the FIFA World Cup about to kick off in Russia, RT's In the Now has followed two Aussie filmmakers on
a failed quest to find the infamous Russian hooligans, who, the BBC said, will turn the event into a festival of violence.
The Australians were so fascinated by the Western reports on vicious Russian thugs, following clashes with English supporters at Euro 2016, that they came to Russia in order to join their ranks.
In their search for the hooligans, who were claimed to have been trained by the Kremlin and linked to President Vladimir Putin himself, they talked to a Russian football official, a martial arts instructor, numerous fans at a Russian Premier League match and
eventually tracked down the very people, who were interviewed by the BBC in the scandalous 2017 documentary
"Russia's Hooligan Army."
"The Hooligans: Joining The Kremlin's Football Army" by In the Now is a Borat-style comedy mockumentary, based on interactions with unsuspecting real people, that, ironically, operates facts much more carefully than the British journalists.
The Orel Butchers fans' union, which the BBC said were at the center of the violence in Marseille, told the filmmakers that
they were asked to put balaclavas on during the shooting last year because "it was going to be fun, like a show."
As for their alleged leader, who was credited as Denis in the UK film and delivered the most fiery quotes, the fans said that they never knew such a man.
"He never existed. He's a character invented by the BBC,"
they said.
Even the meeting with Vasily 'the Killer' Stepanov, who was labeled the mastermind of the Russian riots at the European championships, turned out a complete waste of time for the Australian crew.
"When those clashes happened in Marseille, I was here in Russia, at my country house,"
Vasily said, adding that he has five kids and the baseless accusations made other parents at the kindergarten afraid of him.
Stepanov was filmed by the BBC as saying that Russian hooligans in France were Putin's special forces sent to conquer Europe in the BBC films. But the man said that
he was actually quoting media headlines,
and the British journalists who edited the video set him up and made it look like his actual statements.
The opening match of the FIFA World Cup will take place on Thursday, with hosts Russia taking on Saudi Arabia in Moscow. The biggest event in football, which the country hosts for the first time ever, will see teams from 32 nations, playing on 12 venues in 11 Russia cities, with the winner to be decided at Luzhniki stadium in the capital on July 15. The Russian authorities have been saying that security is among their top priorities during the Mundial, assuring the arriving fans that they have nothing to fear and that only warm welcome expects them on their visit to Russia.