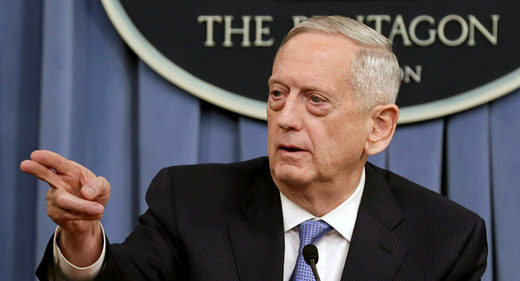 US Defense Secretary James Mattis
told
reporters on Friday that the US will stay in northern Syria, even after IS is defeated.
"As you know, a little over 100 hours ago, our partner forces kicked off in an offensive against one of the last remaining enclaves of the physical caliphate. So we are still engaged, ladies and gentlemen, in a fight against the -- the ISIS-Daesh caliphate," he said about an ongoing offensive of the Syrian Democratic Forces (SDF) in Deir ar Zour.
"It is not over yet and that continues. So obviously we are going to continue the U.N. mandate, being that Daesh is -- is a threat, then we are going to continue to go after them," he added.
Furthermore, he added that the US is going to stay in northern Syria to support local councils.
"Further, we are not simply going to think, "Well, they're gone, so let's just walk away now." What you've got to do is support the local governing councils, you've got to support local security,
so you don't walk out and have them walk right back in
," he said.

Comment: And how long does Mattis think they will 'support' these local councils? A year? Five? A couple of decades?


"I mean, this only makes common sense. This is not radically new thought," he added.
Moreover, the US will support the work Staffan de Mistura, the United Nations special envoy on Syria.
"They [diplomats] are working to re-energize the Geneva process, which is the way we're going to try to end this tragedy that's been going on ever since Assad declared war on his own people," he said.
"So all of these factors have to be considered when you look at how long we will be there," he added.
In a special briefing on the Turkish-US Manbij roadmap, another US official
said
they are working to ensure all ethnic groups have say in the future of Syria.
"(...) where U.S. forces have been working with partners to fight ISIS, work to ensure that all the diverse people of northeast Syria - Arabs, Kurds, Christian, Turkmen - have an appropriate say in their future under UN Security Council Resolution 2254," a senior State Department official said on 5 June.