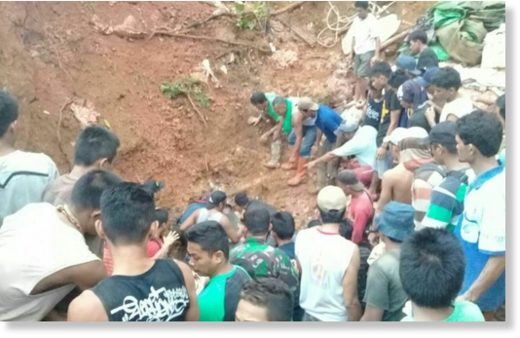 Head of Data Center, Information and Public Relation of National Disaster Management Agency (BNPB) Sutopo Purwo Nugroho reported the landslide again took casualties.
Illegal gold mine which residents were working on collapsed during rain in Bakan Village, Lolayan Sub-district, Bolaang Mongondow Regency, North Sulawesi Province on Sunday (6/3/2018) at 3 pm Central Indonesian Time (WITA).
The landslide also buried six miners as they kept mining despite heavy rain.
"The joint SAR team evacuated the landslide victims
. From six people who were buried five people had been evacuated in dead condition on Sunday at 7 pm WITA and one person was still in search," said Sutopo, Monday (6/4).
Five gold miners who have been found dead are Rian Mamonto (28), Wiro Ketangrejo (26), Adi Mokodompit (26), Dodo Mamonto (45), and Dudi Lenda (45). One person still in search is Molan Mamonto (55) and all the victims were from Bakan Village.
This morning the search was resumed. Regional Disaster Management Agency (BPBD) of Bolaang Mongondow Regency, National SAR Agency (Basarnas) of Mobagu City, Indonesian Armed Forces (TNI), National Police, volunteers and the community were evacuating the victims.
"The location of landslides is hilly with a fairly steep slope that is prone to landslides. Not to mention the mining is traditionally conducted so easily collapses during heavy rains," said Sutopo.