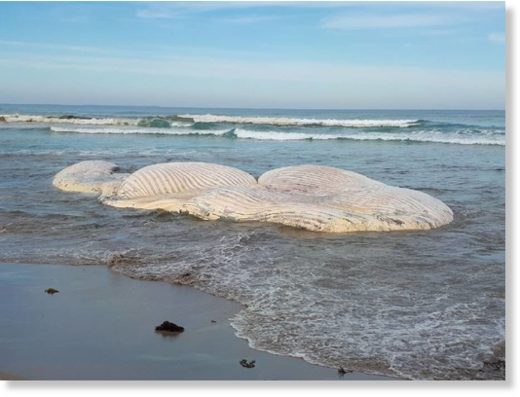 A whale that washed up on a beach near Tyrendarra last weekend will be left to decompose.
Department of Environment, Land, Water and Planning (DELWP) officers identified it as a blue whale but are awaiting expert species identification confirmation.
The whale washed up in the Fitzroy River area on the shore line.
DELWP Barwon South West regional agency commander Aimee Haywood said given the beach's remote location a decision was made to allow the carcass to decompose naturally. "DNA samples were taken to provide to the Melbourne Museum for identification purposes," she said.
"The whale carcass is on a secluded beach that is not easily accessible to the public. We are asking the public to stay away from the carcass, due to the health risks associated with whale decomposition, and the presence of whale faeces on the beach.
"Signage is in place, warning of the hazards in the area. Shark activity was observed in the water, adding to the risk at the site.
Blue Whale Study chief executive officer Peter Gill also collected samples on Sunday.
"Everybody's assuming it's a blue whale but it could be a fin whale which is a very similar species," he said. "It most likely is a blue whale because they're the most common big whale in our waters at that time of year but it could be a fin whale."
Dr Gill heads the independent research organisation, based out of Portland, which has studied blue whales off the coast for 20 years.
He said it would be unlikely that Melbourne Museum would collect the skeleton. "It's that hard to get to and it's very big," he said. "It's 23 metres long, that's the size of an adult pygmy blue whale or a fin whale."
Dr Gill will send the tissue samples to Flinders University genetic specialists to help identify it.
"Because it's lost its skin and it's decomposing you can't automatically just look at it and say it's one or the other."
He said the findings would go into his own research records as well as commonwealth and state government and museum data bases.