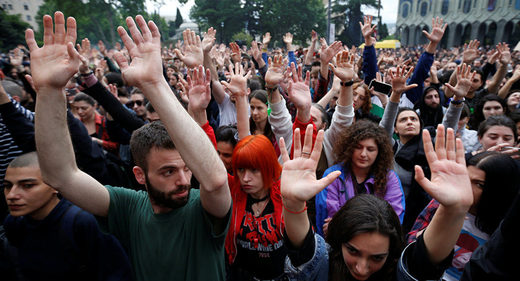 The rally was sparked by the killing of two teenagers in Tbilisi on December, 2017
Thousands of protestors, who gathered in Tbilisi on Thursday, said they would continue their rally until all their demands, including the government's resignation, are met, and will make a tent camp outside the Georgian parliament if necessary.
The protests are broadcast live by all central TV channels in the country.
The rally, sparked by the killing of two teenagers in Tbilisi on December, 2017, began on Thursday afternoon in front of the Georgian Prosecutor General's office.
The event was organized by Zaza Saralidze, the father of one of the victims. The crowd was angered by the way the prosecutors handled the investigation into the murder case and accused law-enforcers of covering up for the culprits. Protesters demanded resignation of the country's chief prosecutor Irakly Shotadze.
Shotadze tendered his resignation in the wake of the protest, but the move failed to appease the protesters. More and more people joined the angry crowd throughout the day.
Later on Thursday, protesters marched to the Georgian parliament building and demanded the whole cabinet, including Prime Minister Georgy Kvirikashvili, to resign.
The premier briefly appeared before the crowd, and tried to make an address.
He called to "bring the events back within the boundaries of the law" and vowed that the investigation into the murder will resume.
However, his speech was disrupted by the crowd, who started whistling and chanting "leave!"
Saralidze addressed the crowd after the premier, saying that "the demands will not change and the protesters will demand the government's resignation to the bitter end."