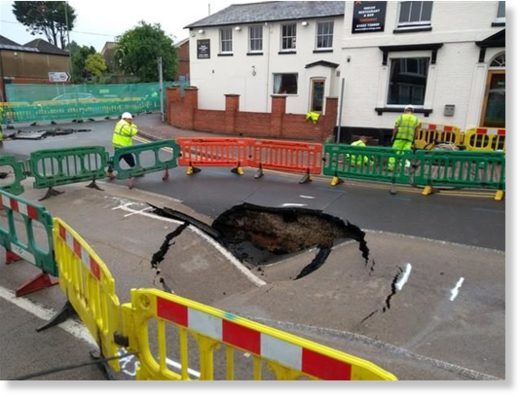 Ten homes have had to be evacuated after a sinkhole opened up in Tonbridge Road.
A number of people living on the A26 Tonbridge Road near the Fountain Lane traffic light junction have told they could be out of their homes for weeks.
Maidstone council confirmed 10 homes have had to be vacated and currently four people are being housed in temporary accommodation.
The move comes after a sinkhole as deep as three meters and caused by a 240 sq meter void - just under the size than a tennis court -
appeared in the middle of the road
on Monday, May 28.
Houses running along the stretch of road are showing signs of damage as walls separating the property are cracked at the same place all along the terrace.
Speaking the day after the collapse Lewis West, 29, said he wasn't sure what was going to happen but believed he would be staying somewhere in the County Town.
He had returned to his home to gather his belongings before moving out.
"We haven't a clue what's going on at the moment, they have said we could be out of our homes for weeks to cover themselves but it could just be days", he said.
"I think it's more of a safety thing because of gas and water but we have had cracks appear in our walls inside too.
"It does make me worry about the house when we're being evacuated, it's never nice and we don't know what's going on. We just want answers.
"I hope the house is still standing when we get back", he added.
Others living on the street who did not wish to be named also said they were concerned about the impact the subsidence will have on the value of their homes.
Cllr Martin Cox, Leader of Maidstone Borough Council, said: "We understand10 properties have been affected by the sinkhole. The full extent of the situation is still being assessed.
"The safety and wellbeing of all residents affected is our primary concern. We are on site and are assessing those who may need temporary accommodation.
"We would like to reassure all residents we will do our very best to support them throughout this worrying time."