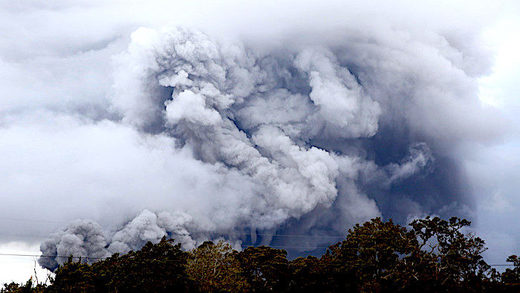 After over a week of threatening to blow, Hawaii's Kilauea volcano has finally erupted, sending a plume of ash 30,000ft into the air.
According
to the United States Geological Survey (USGS),
the eruption happened at 4:15am (local time), producing a volcanic cloud that reached as high as the cruising altitude for a jumbo jet.
The volcano is still spewing ash into the sky, with
some emissions still reaching 12,000ft.
"At any time, activity may again become more explosive, increasing the intensity of ash production and producing ballistic projectiles near the vent,"
the USGS said in a statement.
The eruption comes just one day after authorities
issued
an aviation red alert, warning pilots to steer clear of the erupting shield crater which was already shooting ash and fiery projectiles into the air.
Prior to eruption, Kilauea had opened more than two dozen fissures miles to the east of the volcano, spilling lava into neighborhoods and forcing people from their homes. Over 1,500 people have been evacuated and dozens of homes and buildings destroyed since volcanic activity at the Halemaumau crater was first observed last week.
Images of burning roadsides and choking ash plumes have filled social media, with NASA also posting satellites pictures online of the volcano from high above.
Officials say they don't believe this eruption will cause any fatalities as long as people stay out of the way of one of Earth's most active volcanoes. One such eruption, in 1924, killed one person and filled the sky with ash for 17 days.